Work on 'Skyfall' credits sequence begins

Skyfall
- 29-05-12
Work on the credits sequence to the upcoming James Bond film "Skyfall" is underway.
British model
Charlotte Edwards
tweeted that her friend and fellow model Natasha was shooting the credits sequence to "Skyfall".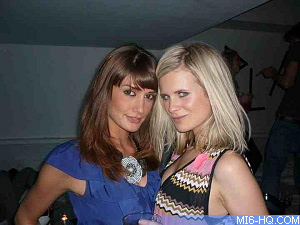 Above: Charlotte (left) and Natasha (right)
.
Traditionally featuring sexy silhouetted girls, the titles for Daniel Craig's first two outings were a little different: rotoscoped vector animation for "Casino Royale", and three dimensional girls with CGI effects for "Quantum of Solace".
With director Sam Mendes promising the return of classic Bond elements, will fans see a traditional credits sequence?
There is no confirmation yet on who is creating the titles, or if Daniel Kleinman is back to work more of his magic.
Thanks to `GermanLady` for the alert.
Discuss this news here...
Earlier Story:
Ian Fleming: James Bond creator's 104th birthday today
Later Story:
UK TV - Bond producer Michael G. Wilson on 'Newsnight', Thursday
This content is maintained by www.mi6-hq.com Content is copyright its respective owners and is published for non profit educational use only. All original content is copyright mi6-hq.com © 2014. MI6 accept no responsibility or give warranty for the accuracy authenticity or correctness of content. James Bond 007 is a registered trademark of DANJAQ, LLC, a Delaware corporation in the United States and/or other countries. Webmasters seeking news syndication or for press contact information - click here.