'Skyfall' poster covers latest issue of Total Film magazine

Skyfall
- 07-06-12
The latest issue of the film magazine features a "Skyfall" cover and boasts an interview with 007 star Daniel Craig and "unseen pics".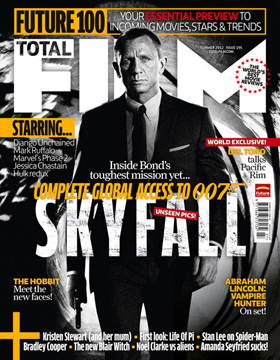 In an extract from the interview published
online at totalfilm.com
, Craig talks about how he and Mendes prepped for the film: "I reread the books, he read the books, we watched the movies, we talked about the Roger Moore movies, the Sean Connery movies, the whole thing. Thereís a sort of tone thatís in all those movies that you canít try to recreate. If you do, then itís a pastiche. Neither Sam nor I want to make a pastiche of an older movie. But you have flavours of it."
Thanks to `MrBond` and `Tilly` for the alert.
Discuss this news here...
Earlier Story:
Details emerge of Daniel Craig's 007 entrance at the London Olympics
Later Story:
Bond cars on display at Pageant of Power
This content is maintained by www.mi6-hq.com Content is copyright its respective owners and is published for non profit educational use only. All original content is copyright mi6-hq.com © 2014. MI6 accept no responsibility or give warranty for the accuracy authenticity or correctness of content. James Bond 007 is a registered trademark of DANJAQ, LLC, a Delaware corporation in the United States and/or other countries. Webmasters seeking news syndication or for press contact information - click here.