UK TV - 'Die Another Day' on ITV1 tonight

Media Alert
- 14-09-12
Movie:
Die Another Day (2002)
Channel: ITV1 (UK)
Date: Friday 14th September 2012
Time: 22:35
When his top-secret mission is sabotaged, James Bond finds himself captured by the enemy, abandoned by MI6 and stripped of his 00-licence. Determined to get revenge, Bond goes head-to-head with a sultry spy, a frosty agent, and a shadowy billionaire whose business is diamonds... but whose secret is a diabolical weapon that could bring the world to its knees!
Starring: Pierce Brosnan, Halle Berry, Toby Stephens, Rosamund Pike, Rick Yune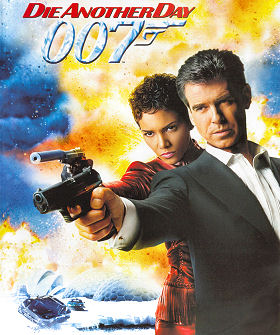 "Die Another Day" - MI6 Dossier
Thanks to `Samuel001` for the alert.
Discuss this news here...
Earlier Story:
Nintendo Wii U confirmed for 007 Legends videogame
Later Story:
Amazon pulls James Bond Movie Posters book from sale
This content is maintained by www.mi6-hq.com Content is copyright its respective owners and is published for non profit educational use only. All original content is copyright mi6-hq.com © 2014. MI6 accept no responsibility or give warranty for the accuracy authenticity or correctness of content. James Bond 007 is a registered trademark of DANJAQ, LLC, a Delaware corporation in the United States and/or other countries. Webmasters seeking news syndication or for press contact information - click here.