Heineken release 007 designed bottles

Collecting
- 12-10-12
The new "Skyfall" look for Heineken comes in two formats, adapted from the brand's new "star" bottle design.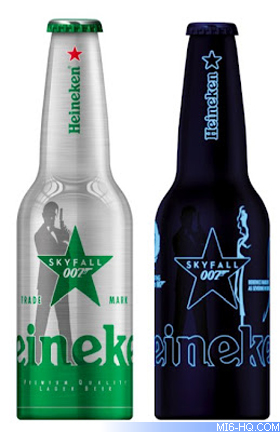 "The newly designed Star Bottle allows Heineken to take a huge step forward in the globalization of the brand, which started with our 'Open Your World' marketing campaign and our more recent draught program," Colin Westcott-Pitt, VP of Marketing, Heineken USA, stated. "The Heineken bottle has gone through a number of progressions but has always maintained its core iconography that has become a symbol of upscale premium beer, and this philosophy will remain the same with the new Star Bottle design."
Heineken has also partnered with NY fashion brand Public School to create a limited edition duffle bag.
"We chose Public School as a partner because their clientele, like ours, are open-minded, confident, resourceful men who know quality, seek out new experiences and are ever-evolving in all aspects of their life," said Olga Osminkina, senior brand director of Heineken USA.
Discuss this news here...
Earlier Story:
'Bond, James Bond' clip from 'Skyfall' now online
Later Story:
Amazon release 30 second samples of Thomas Newman's 'Skyfall' OST
This content is maintained by www.mi6-hq.com Content is copyright its respective owners and is published for non profit educational use only. All original content is copyright mi6-hq.com © 2014. MI6 accept no responsibility or give warranty for the accuracy authenticity or correctness of content. James Bond 007 is a registered trademark of DANJAQ, LLC, a Delaware corporation in the United States and/or other countries. Webmasters seeking news syndication or for press contact information - click here.