Argentina TV - 'GoldenEye' on Sunday Evening

Media Alert
- 15-03-13
Movie:
GoldenEye (1995)
Channel: Canal 13 (Argentina)
Date: 16th March 2013
Time: 20:30
Pierce Brosnan, on his first mission as 007, quickly establishes himself as the best Bond since Sean Connery and makes a fetish out of the old-fashioned values of loyalty and patriotism. Director Martin Campbell provides a stunning chase between car and tank through the streets of St Petersburg. There are also notable Bond girls in the shape of Izabella Scorupco and assassin Famke Janssen, who kills by crushing her victims between her thighs.
Starring: Pierce Brosnan, Izabella Scorupco, Sean Bean, Famke Janssen, Gottfried John, Joe Don Baker, Robbie Coltrane, Alan Cumming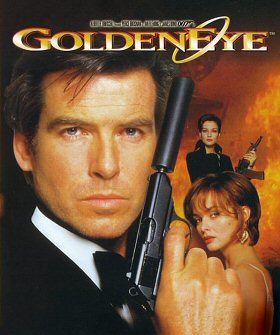 "GoldenEye" - MI6 Dossier
Thanks to `Nicolás Suszczyk` for the alert.
Discuss this news here...
Earlier Story:
'Skyfall' picks up Best Film award at South Bank Sky Arts Awards
Later Story:
Daniel Craig takes delivery of birthday Aston Martin
This content is maintained by www.mi6-hq.com Content is copyright its respective owners and is published for non profit educational use only. All original content is copyright mi6-hq.com © 2014. MI6 accept no responsibility or give warranty for the accuracy authenticity or correctness of content. James Bond 007 is a registered trademark of DANJAQ, LLC, a Delaware corporation in the United States and/or other countries. Webmasters seeking news syndication or for press contact information - click here.