Pierce Brosnan slams American President George W. Bush, he would vote for Kerry if he could

Actor News
- 08-06-04
James Bond is normally best known for defending political leaders but 007 star Pierce Brosnan has taken a very public pop at US President George W. Bush, reports
Yahoo Movie News
.
The Irish actor, who is based in America, was recently asked his opinion of the current boss at the White House and his response certainly wasn't one M would be proud of.
"It is such a shame. Since this man came to power, there has been so much pain and fear. You know you want to believe in leaders, really believe in leaders. You want what they are saying to be truthful and you want to trust them. I find it very hard to believe and trust him, " Pierce told Metro.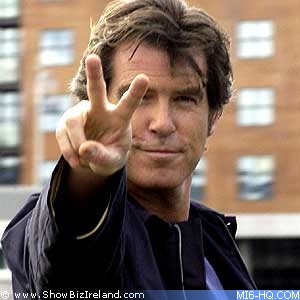 The actor also revealed that he's rooting for Senator John Kerry in November's election, saying "I can't vote. I'm not an American citizen. But I am certainly for Kerry. Something happened in the US with this government, that's all I can say."
Thanks to `Pinky` for the alert.
Discuss this news here...
Earlier Story:
007 comes to the rescue of Sean Connery on the golf course
Later Story:
007 up for more awards as `Everything or Nothing` scoops gaming nominations
This content is maintained by www.mi6-hq.com Content is copyright its respective owners and is published for non profit educational use only. All original content is copyright mi6-hq.com © 2014. MI6 accept no responsibility or give warranty for the accuracy authenticity or correctness of content. James Bond 007 is a registered trademark of DANJAQ, LLC, a Delaware corporation in the United States and/or other countries. Webmasters seeking news syndication or for press contact information - click here.