More explosive 'Skyfall' filming to take place in London today

Skyfall
- 13-01-12
After
yesterday's outing to Charing Cross
and shooting on a disused tube platform on the Jubilee line, the "Skyfall" crew are back in Greenwich this evening.
It is understood that eight vehicles will be blown up during filming today. Below is a shot of one of the unfortunate Land Rovers that are being modified for the sequence.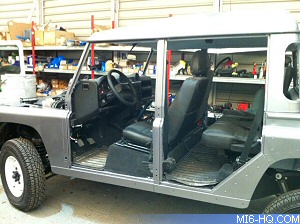 Last last year, it was tipped that the production was buying up old VW Beetles for destruction too.
Discuss this news here...
Earlier Story:
'Skyfall' filming continues on location today in Charing Cross, London
Later Story:
Tabloids claim 'Skyfall' budget cuts will mean British seaside filming
This content is maintained by www.mi6-hq.com Content is copyright its respective owners and is published for non profit educational use only. All original content is copyright mi6-hq.com © 2014. MI6 accept no responsibility or give warranty for the accuracy authenticity or correctness of content. James Bond 007 is a registered trademark of DANJAQ, LLC, a Delaware corporation in the United States and/or other countries. Webmasters seeking news syndication or for press contact information - click here.