007 on this week's Radio Times magazine cover
Press Release
[The Radio Times is] attempting to resolve one of the fiercest debates in cinema history in this week's issue: who is the greatest ever James Bond? And, as there's a good case to be made for awarding the title to every incarnation of 007 from Sean Connery to Daniel Craig, we've enlisted some expert help in the forms of film buffs Barry Norman, Mark Kermode, Simon Mayo and Andrew Collins to settle the matter once and for all.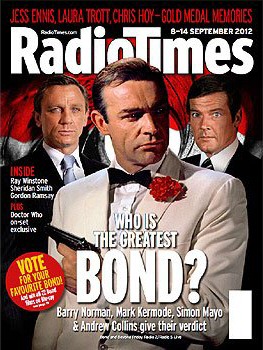 Plus, they're also giving you the chance to win each and every Bond film on Blu-ray! All you have to do is tell us your favourite Bond and the reasons you like him, and you could win Bond 50, a newly-released special commemorative box set containing all 22 films from Dr No to Quantum of Solace.
It's all in this week's Radio Times, on sale now priced £1.40.
Discuss this news here...