Pierce Brosnan wishes he was as cool as James Bond
Throughout the years, Pierce Brosnan's blown up dozens of buildings, seduced countless femme fatales and killed off enough bad guys to have single-handedly kept the bullet industry in the black. But according to the 61-year-old actor, he's not nearly as deadly as we'd all like to believe, in the August issue of
Du Jour
magazine.
"I just wish I was as cool as they are," Brosnan says, referring to the unflappable operatives he's so memorably played throughout the years. "If I got into a fight in a bar, I'd miss the dude by miles, I wouldn't know how to connect. It would be a comedy."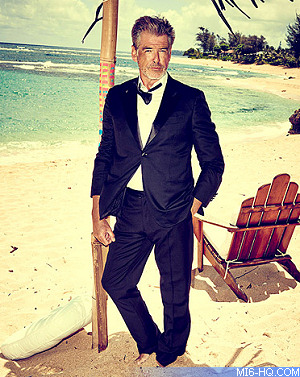 "[The James Bond] role is a gift that keeps giving in many respects," Brosnan says. "I resist any negative feelings or tension as it's such an iconic role. I think there's space for people who enjoyed my work as Bond to enjoy this film and see the guy I once was play the guy I am now."
Discuss this news here...