First look at the prototype designs for the remastered James Bond DVDs due out October 2005
As MI6 first reported way back in January 2003
, the James Bond series is undergoing remastering ready for a new set of DVDs
due out in October 2005.
DVDAnswers.com
have released some sneak-peek pictures of some protoype designs for the new DVD collection.
Click the images to display the full version.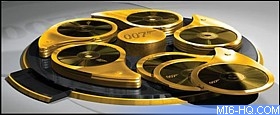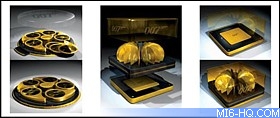 MI6 revealed in
July 2003
that a long-term project to remaster the classic Bond film soundtracks was underway. These new digitally enhanced soundtracks will be the major improvement to the releases of "Dr No", "From Russia With Love", "Goldfinger", "Thunderball", "You Only Live Twice", "On Her Majesty`s Secret Service", "Diamonds Are Forever", "Live And Let Die" and "The Man With The Golden Gun" in 2005.
Audio is not the only aspect of the films to benefit form this latest remastering. Brand new digital film transfers will be made for all the movies from "Dr. No" through to and including "The World Is Not Enough", so 007 will look sharper than ever.
After something extra special? If you are not an audiophile of picture quality expert, there will also be extras to tempt you into buying a new set of DVDs. New documentaries will be added to the discs with exclusive interviews with cast and crew members from the past 42 years, along with rare and unseen footage from the productions.
Thanks to DVDAnswers for the images.

Discuss this news here...