Jesper Christensen back-tracks on comments critizing James Bond franchise
Jesper Christensen claims he was stitched up by the press at the Berlin Film Festival for sensationalizing quotes where he criticized the 007 franchise. The Danish actor, who played villain
Mr White
in the last two James Bond movies,
created a firestorm last week when he was quoted saying his Bond films were 'really shit'
during promotional work for his new movie "A Family".
He is now back-tracking on some of those comments.
"I have great respect for the people who make Bond films. They have managed to create their very own meta-universe, almost a genre in itself and a series of 23 films now. It is unique."
"I think
Casino Royale
is a super movie, which I am proud to be involved in. I think my character was becoming a really fun one and would have continued if it had been timely."
He had no comments on the 2008 follow-up, "
Quantum of Solace
", which was received far less well by critics.
"Humour is a dangerous case with journalists, in line with 'Oh, they got me. Bond is a sissy', or similar. Come on, if the Bond films were that bad, I would not have made them."
All that said, Christensen hinted at the core of his
reasoning behind his original comments
: "That I think that movies like ["A Family"] is much more interesting to watch and more in line with why I became an actor is all together a different matter."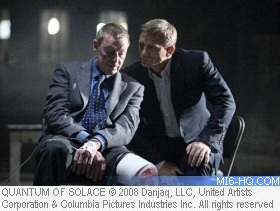 Thanks to `Zeki` for the alert.
Discuss this news here...