First look at Timothy Dalton in NBC's 'Chuck' (photo)
'Chuck' boss Josh Schwartz wants to make one thing very clear about Timothy Dalton's upcoming arc on the show: He's not playing James Bond. Far from it, in fact.
"It's not the kind of character you'd [expect] him to play," Schwartz teases of the actor, who premieres in the Nov. 1 episode, reports
EW
. "There's nothing suave or debonair about him."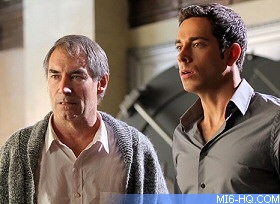 Dalton's alter ego shares a past with Chuck's mom (Linda Hamilton), but Schwartz is reluctant to reveal the nature of their connection. "We want it to be a surprise," he says.
Dalton is on board for a handful of episodes—a run that could be extended should NBC greenlight additional episodes of Chuck beyond the initial order of 13. Is Schwartz optimistic his underdog spy comedy will carry on? "NBC is really happy with it creatively," he says. "This is Chuck. We never say die."
Discuss this news here...