More explosive 'Skyfall' filming to take place in London today
After
yesterday's outing to Charing Cross
and shooting on a disused tube platform on the Jubilee line, the "Skyfall" crew are back in Greenwich this evening.
It is understood that eight vehicles will be blown up during filming today. Below is a shot of one of the unfortunate Land Rovers that are being modified for the sequence.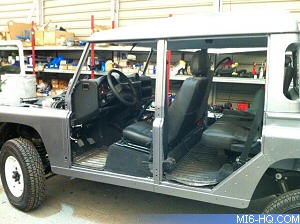 Last last year, it was tipped that the production was buying up old VW Beetles for destruction too.
Discuss this news here...