Marc Ange Draco (Gabriele Ferzetti)
Datastream
Character: Marc Ange Draco
Actor: Gabriele Ferzetti
Movie: On Her Majesty's Secret Service
Status: Presumed retired
Appearance: Medium height and build, with dark hair, eyes and a thick mustache.
Date of Birth: 17 March 1925
Height: CLASSIFIED
Place of Birth: Rome, Italy

Pleased To Meet You
Bond is roughly escorted to meet with Draco after he shows an interest in his daughter. In a back street of Lisbon, Bond finds himself in the lavish office of the ringleader of the Union Corse - the Corsican mafia.
"Do not kill me Mr. Bond, at least not until we've had a drink. Then if you wish, I will give you another chance. I'm Draco, of Draco Construction."
Personality
Quiet but self-confident, Draco has made a sufficient amount of money from his numerous illegal deals as well as legitimate business in agriculture and construction. He his a person of extreme interest to MI6, but Bond is focused on one thing only, Draco's ability to help him locate Blofeld. Draco is thoughtful and considered much of the time but clearly acts out of passion on occasion. He has had numerous affairs since parting with Tracy's mother but has never found anyone to settle down with. Draco is conscious of the neglect his daughter has suffered and has no way to reign her in - save a little help from James Bond. He tries to make up for lost years but his suborn daughter does not relate to him. Despite strained family relations, his illegal businesses are thriving and in many ways, Draco is similar to Bond with a love of good food and drink and a wicked, cynical sense of humor.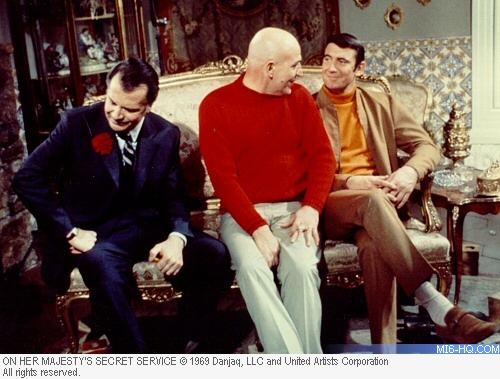 Above: Gabriele Ferzetti, Telly Savalas and George Lazenby chat between takes at Pinewood.
Involvement
Bond is ushered to Draco's office where the two men get to know each other for only a very short time before Draco propositions James Bond. It is suggested that 007 pursue Draco's daughter, Tracy, and marry her with a dowry of one million pounds. Draco is convinced she will benefit from the strength of a man in her life but Bond recognises she is her own women. Despite disagreeing on what would be the best for Tracy - Bond has other motives for cooperating with the mob-boss. Draco, it seems, knows where to find Ernst Stravro Blofeld - the super villain 007 has crossed paths with on the You Only Live Twice mission.
In exchange for 007's assistance in his family strife, Draco passes on what he knows about Blofeld. Later, when Tracy has been kidnapped by the villain, Bond turns to Draco for his help rescuing Tracy from the heights of Piz Gloria. Draco's men disguise themselves as the Red Cross and make a daring assault on the mountaintop lair. With the mission a success, Tracy and Bond say their vows and Draco gives away his ill-fated daughter to James Bond.
Biography
Born as Pasquale Ferzetti in 1925, Ferzetti grew up to become a successful Italian stage and screen actor, long before his first English-speaking roles. He earned his first screen role age 17, working mostly as an uncredited extra throughout the '40s. Films from this stage in his career included "Fabiola" (1949), the well received antiquity drama set in Rome, in which Ferzetti was credited as Claudio.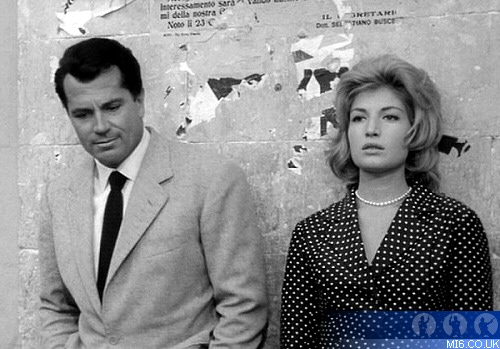 Above: Gabriele Ferzetti and Monica Vitti in "L'Avventura" (1960)
In 1950 he earned his most major role to date in "Lo Zappatore", which focused on the life of peasants and farm workers in the interwar and depression period. By 1953 he received the title role in Italian made bio-pic of the turbulent life of composer Puccini. The film was well received and the following year, carried into the USA. Ferzetti would reprise this role the in 1954's "Casa Ricordi", an overview of classical and operatic writers that starred Roland Alexandre as Gioacchino Rossini. "Casa Ricordi" was not as successful as Ferzetti's first portrayal of Puccini.
Ferzetti co-starred in the comedy "La Provinciale" (1953) for which he won an award from the Italian National Syndicate of Film Journalists. The same feature was nominated at the Cannes festival the same year. In this film he plays a Professor who marries starlet Gina Lollobrigida. Lollobrigida would later make her name in English feature films and the soapy, "Falcon Crest" (1981).
By the 1960s, Ferzetti had clocked up over 50 on screen credits and was starting to be exposed to the English speaking world of cinema and television. He made a memorable appearance in the Adventure/Comedy "I Spy", in two 1966 episodes as Aldo. He appeared in the famous feature film "Once Upon A Time In The West", where he played Morton, the railroad baron, opposite Charles Bronson and Henry Fonda.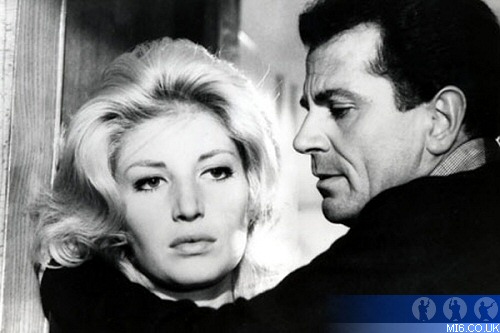 Above: Gabriele Ferzetti and Monica Vitti in "L'Avventura" (1960)
In the late '60s Peter Hunt, director of O.H.M.S.S, spied Ferzetti in an Italian film when they were supposed to be reviewing material for another actor who Harry Saltzman had suggested for the role of Draco. Hunt changed his mind almost immediately and convinced the producers to test Ferzetti. Although he had a good grasp of English, the crew elected to dub Draco and hired English actor David de Keyser to provide the voice. Draco remains one of Bond's most lovable allies and a most valuable resource for the super-spy.
Beyond Bond, Ferzetti enjoyed a thriving career in the '70s and '80s - working with Laurence Olivier and Bond director Terence Young on "Inchon" in 1982 as well as the modern adaptation of "Othello" in 1995.
More recently he has appeared in a string of episodes for romantic comedy "Une famille formidable" and 2009's "Io sono l'amore" which stars English actress Tilda Swinton, famed for the Narnia series and "The Beach" (2000).
In over 60 years on screen acting, Gabriele Ferzetti has had more the 160 credits to his name and continues to take selective roles today.
Related Articles
Allies Index