Damian Falco (Michael Madsen)
Datastream
Character: Damian Falco, NSA Chief
Actor: Michael Madsen
Movie: Die Another Day
Status: Retired
Appearance: Tall and medium build with wavy, dark and slightly receding hairline. Often seen in crisp dark suits.
Date of Birth: 25th September 1957
Height: 6'2" (1.88m)
Place of Birth: Chicago, Illinois, USA

"Look at him, you'd think he was some kind of a hero."

Pleased To Meet You
Falco is present when the 00 agent is retrieved from the depths of North Korea, recovered by Robinson and swapped for the terrorist Zao. Although the British spy and the NSA chief would not meet until the climax of the "Die Another Day" mission, Falco makes it his business to keep tabs on the unorthodox MI6 agent.
Personality
A slick-suited NSA chief, Damian Falco is scathing of MI6's operations and clashes with M on numerous occasions. He is not very interested in a peaceful resolution in Korea, rather, Falco is only representing what's best for the USA. He is reluctant to put NSA operative Johnson into play when M and 007 support the idea of tracking down the rogue Korean Colonel Moon (Gustav Graves) but eventually concedes to the idea.
Involvement
After witnessing the trade-off of James Bond and Zao, Falco makes sure he is kept in the loop by M and Robinson. He is furious that Bond is back in play, blaming M for making his escape from debriefing too easy. Falco takes a particular interest when 007 is at the scene of the Cuban gene clinic and later rendezvous with M, Bond, Jinx and Robinson in a US manned bunker not far from the 38th parallel. He authorises Jinx's involvement in the assassination of Moon - albeit reluctantly.
Trivia
Madsen secured the part through his connection to director Lee Tamahori and his neighbour Pierce Brosnan after expressing his wish to work at Pinewood Studios. His character of Damian Falco was originally intended to return in the series when required, but the subsequent reboot of the franchise with the change of lead actor from Pierce Brosnan to Daniel Craig and the return of Felix Leiter as Bond's American contact nixed it. An early version of the script alluded sexual tension between Jinx and her boss Falco, but this was removed prior to shooting as the production did not want to cast negative allusion's on to their female lead's morale character. During his time at Pinewood, Madsen would often be seen riding through the corridors on a bicycle.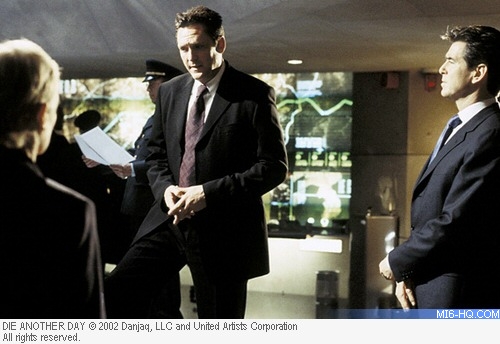 "I hope nobody here's superstitious. That's one big mirror we're about to break."

Biography
Michael Madsen was born and raised in Chicago, the middle of three children. His father was a Chicago fire-fighter for 30 years, and his mother is a writer/producer living in Los Angeles. Madsen remembers watching black and white films from the fifties while growing up, and was influenced by Humphrey Bogart, James Cagney and Robert Mitchum. After seeing a production of "Of Mice and Men" with John Malkovich at the Steppenwolf Theatre, his desire to be an actor became apparent.
After moving to Los Angeles, Madsen was pumping gas at the Union 76 gas station in Beverly Hills when he met someone in the business, who eventually helped him to get an agent. Madsen then appeared on several television shows including "Miami Vice," "Cagney and Lacey," and "St. Elsewhere."
In 1991, his breakthrough performance came opposite Susan Sarandon and Geena Davis in Ridley Scott's "Thelma And Louise." His performance in Quentin Tarantino's "Resevoir Dogs," however, brought him to the calibre of leading man. After being a supporter of Tarantino's scripts for years, Madsen was the director's first choice to play Mr. Blonde. The film, which also starred Tim Roth, Steve Buscemi, Harvey Keitel and Chris Penn, established Madsen in the business and opened the door for several more starring roles.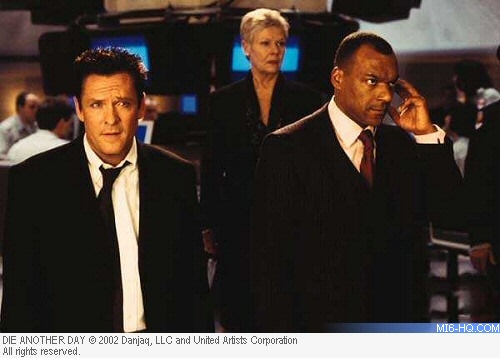 Overall, Madsen has appeared in 43 films including: "Kill Me Again" with Val Kilmer, "Money For Nothing" with John Cusack, the remake of Sam Peckinpahs' classic film "The Getaway", "Mulholland Falls" with Nick Nolte, "Wyatt Earp" with Kevin Costner, and the two "Free Willy" films. On of his most popular films is "Species II", the sequel to the highly successful film which starred Madsen, Natasha Henstridge and Marg Helgenberger. The original cast returned for the sci-fi thriller.
Madsen has four sons and spends his free time with them and his wife at their home in Los Angeles. His third book of poems, "Burning In Paradise" was published in July 1998. He has also been known to race cars, build motorcycles and box.
He is highly sought after, often taking bit-parts as somewhat nonchalant characters. He has recently appeared in "Shannon's Rainbow" (2009) and took a lead role in "45 R.P.M." (2009).
Related Articles
Allies