Quarrel (John Kitzmiller)



"I get my directions from my ears, my nose, my instincts..."

Datastream
Character: Quarrel
Actor: John Kitzmiller
Movie: Dr. No
Status: Deceased
Appearance: Dark skin, short trimmed dark black hair, weather-beaten face but tall with strong arms and legs.
Date of Birth: 4th December 1913
Height: 6' 4" (1.93m)
Place of Birth: Battle Creek, Michigan, USA

Pleased To Meet You
Bond cruises to the dockside where he meets the Cayman Islander. Suspicious of his motives and at first standoffish when greeted by a suit from London, Quarrel eventually warms to 007.
Personality
A bright and friendly Jamaican local, Quarrel is equally handy with a fishing rod as with a pistol. He keeps himself fit, and despite his looks and penchant for rum, can handle a boat better than any other hand-for-hire. He was serious and vigilant about his work for both Strangways and then later 007, sharing comradeship and even humour with his two superiors from MI6. With an unbeatable knowledge for the lay of the land but a susceptibility to believe the local folk law, Quarrel is reluctant to take James Bond to Crab Key for fear of a mysterious dragon. Nevertheless, the Cayman Islander proves to be a much-needed ally in the hot and hostile Jamaican setting. Quarrel was often seen in casual, worn tee-shirts and a tatty straw hat.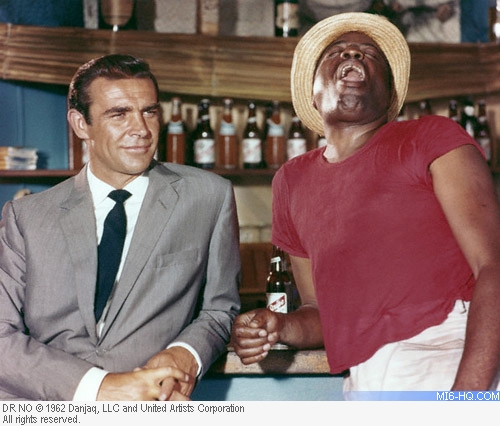 Involvement
Meeting Bond, he takes him to the beachfront club owned by the tough-guy Puss-Fella. At the bar Quarrel and his buddy confront Bond, suspicious of the spy who is hot on the tail of Strangways' killer. Felix Leiter, Bond's contact with the CIA smoothes things over with the Jamaican. When the two locals establish that they can trust James Bond, they prove to be more than useful to the British spy. Quarrel deals efficiently with a pesky reporter and is a useful guide both on land and sea. Bond requests a trip to Crab Key, the famed island of Chinese industrialist Dr. No. Quarrel dutifully leads him there, albeit reluctantly. On the island the pair have to keep their wits sharp to outthink Dr. No's vicious and trigger-happy guards. Quarrel is tragically gunned down by No's monstrous "dragon" and his body was never recovered from Crab Key.
Biography
Born in 1913, John Kitzmiller was born into a lower-class family in Michigan, USA. In his thirties he joined the war effort and became involved in the liberation of Italy during the Second World War. Here Kitzmiller fell in love with the people and the landscape and after the war, remained in Italy.
He began his acting career in the late 1940s, with a string of Italian dramas, but quickly winning lead roles in Italian feature films, notably "Senza Pieta" (1948) and award winning "Luci Del Varietà" (1950). In 1957, Kitzmiller became the first African-American to win a Cannes Award for his lead role in the Yugoslavian produced "Dolina Miru" (1956), a wartime drama.
With over 40 feature films to his name, almost all in Italian, "Dr. No" was his token Hollywood adventure. He came to attention as the earliest James Bond ally, bringing a memorable character from the Fleming cannon to life. After his run-in with 007, Kitzmiller made only six further productions before suffering from a cirrhosis of the liver. John Kitzmiller passed away in Rome in February 1965.