Christopher Wood (1935-2015)
17th October 2015
The English author and screenwriter of two James Bond films has died aged 79
By MI6 Staff
---
Christopher Wood was born to Walter Leonard Wood and Audrey Maud (Hovell) Wood in Lambeth, London on 5th November 1935. Growing up during World War II, his parents sent him away from London to the safety of Edward VI Grammar School in Norwich. But the following year, a German bombing raid destroyed the adjacent school. Wood continued his studies at King's College Junior School back in London where he found himself at risk from "drunken, mentally disturbed, sexual predators" among the staff.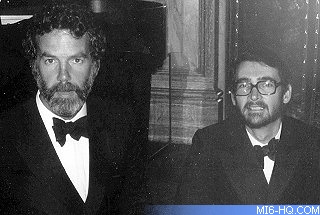 Wood graduated from Cambridge with degrees in Economics and Law in 1960 and then served his military service in Cyprus. It was this time in the Mediterranean that went on to inspire his war time second novel 'Terrible Hard, Says Alice.' Before that, hs time spent in Africa inspired his first novel 'Make it Happen to Me' and his much later 1983 work 'A Dove Against Death.'
To pay his bills whilst writing at night and on his train commutes, Wood became an account executive at the advertising agency Masius Wynne-Williams where he managed national brands. After unsuccessful attempts submitting scripts for television, Wood published his first novel, which was originally titled 'Nobody Here But Us Pickens' until the publishers changed it. Sales were poor and the book was subsequently withdrawn after a threatened defamation lawsuit, although this case later collapsed and Wood was cleared.
Wood pitched the idea of a series of erotic comic novels to his publishers at Sphere paperbacks. The first of these books, Confessions of a Window Cleaner went through multiple editions. Wood pivoted and pitched a series of erotic comic adventures to Sphere and the first entry, 'Confessions of a Window Cleaner' printed multiple editions. With an uptick in his earnings from writing, Wood was able to quit his advertising day job and write full time. It was then that Wood moved his family to France. The 'Confessions' series was a hit and Wood went on to adapt the novels for film under the pseudonym Timothy Lea, as well as a couple of spin-off book series.
"I had a wonderful time on both Bond movies. I prefer 'Spy' both because it was the first time and because I think it is a better movie - and serves Roger the best of all his 007 roles." - Christopher Wood (2005 interview with MI6)
Director Lewis Gilbert tapped Christopher Wood to pen the 1977 James Bond adventure 'The Spy Who Loved Me' after several writers had pitched unsuccessful outlines. Wood has written 'Seven Nights in Japan' for Gilbert a couple of years earlier.
As the film had little to do with the Ian Fleming novel (due to a restriction placed on the adaptation by Fleming before his death), Wood also penned the novelization of the film ('James Bond, The Spy Who Loved Me'). Gilbert and Wood would team up again two years later for the following film 'Moonraker,' where once again Wood provided a novelization ('James Bond and Moonraker').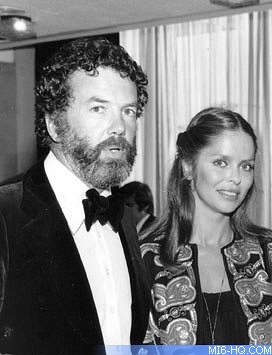 "Mr Wood has bravely tackled his formidable task, that of turning a typical late Bond film, which must be basically facetious, into a novel after Ian Fleming, which must be basically serious. ... the descriptions are adequate and the action writing excellent." - Kingsley Amis
After his two film tenure with 007, Wood wrote the 1985 action film 'Remo Williams: The Adventure Begins' starring Fred Ward, which was directed by former Bond director Guy Hamilton.
Wood published his memoirs, 'James Bond, The Spy I Loved', in 2006. It was his last published work.
Christopher Wood passed away in his apartment in Southwest France on 9th May 2015. However, his passing was not widely known until 17th October 2015 when Sir Roger Moore tweeted his condolences. Wood had three children. He is survived by his son and daughter.
Share The Story