| | |
| --- | --- |
| | George Leech, prolific stunt performer, arranger and veteran of eleven James Bond films, has died aged 90... |
George Leech (1921-2012)
18th June 2012
Veteran stuntman George Leech has died at the age of 90. He performed stunt double and arrangement duties, as well as appearing on screen himself as various goons and henchman, in multiple James Bond films from "Dr. No" in 1962 up to "A View To A Kill" in 1985.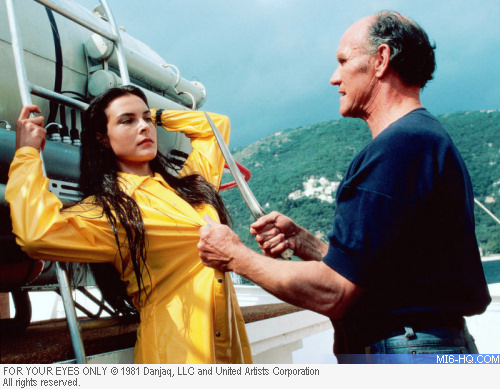 Above: George Leech holds Caroline Bouquet at knife point in "For Your Eyes Only"
Born in London, England, on December 6th, 1921, George Leech started his film career in 1947 as the stand-in for James Mason in "Odd Man Out". By the mid-1950s he landed small roles in films such as the Pier Angeli film "Port Afrique", and soon found himself in great demand. A few years later his first big action film came with "The Guns Of Navarone". The following year he was engaged on a modest film called "Dr No" - it was to be the first of eleven James Bond films, which took him through to Roger Moore's last outing in "A View To A Kill" in 1985. Leech doubled for George Lazenby and Roger Moore, as well as having a few fisty-cuffs with Sean Connery and his adversaries. His other credits include "Chitty Chitty Bang Bang", "A Bridge Too Far", "Kelly's Heroes", "The Eagle Has Landed", "Revenge Of The Pink Panther", "Superman" and "North Sea Hijack".
In the mind 1990s, Leech reflected on his work as stunt arranger on Lazenby's sole outing as 007 in "On Her Majesty's Secret Service" (1969). With regular Bond stunt arranger Bob Simmons in Spain working with Connery on "Shalako", Leech was promoted to his role and one of his first responsibilities was conducting screen tests for the potential 007s, and in particular a brutal fight sequence. "Before [Lazenby] had done a couple of scenes in tests and then they said, 'Well, we want to see if he's any good at action' - so I had to arrange a fight scene. I had a set built by the art department and I arranged a fight scene there with Yuri Borienko. In fact, I think that was a better fight - the test - than the one we did in the film, although the one in the film was very good," Leech recalled. Lazenby, who broke Borienko's nose performing the scenes, passed with flying colours and was hired largely on the strength of that action.
Also on the same film, Leech suffered an injury whilst doubling for Lazenby. For the scenes where Bond escapes Piz Gloria via the cable car wheel house, Leech wanted to ensure that he was in top physical condition to hang from the cables for prolonged periods. "The cables went right inside the building itself. They were the thickness of a piece of metal scaffolding and I used to practice on that all day when there was a break, swinging on it and climbing hand over hand and doing pull ups. So I thought to myself, 'Well, I've got all the strength to do this,' but I never reckoned that I would slip and dislocate my arm. That finished my tricks on the cable. My hand slipped because the cable was greasy. I grabbed hold of it and having missed with one hand, still hanging on, you twist around. That's it. You can't stop yourself twisting and the shoulder just goes 'crunch' and off I came. But one of our jobs is to try to get things safe so that you don't have accidents. So I had prepared a bed underneath of boxes and mattresses in case myself or anyone else fell off. And, of course, I hurtled down and 'splosh!' - that was it." The accident lead to the moment in film that was not originally scripted, when Bond rips out his trouser pockets to use them as makeshift gloves to get a better grip on the slippery cable.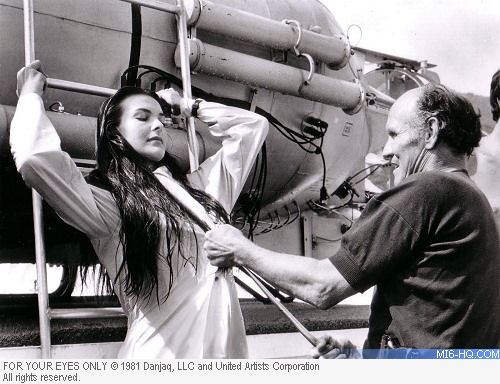 Above: An alternative shot where Leech's character uses a boat hook to keep Melina in check.
As well as his stunt arrangement and doubling work on "Majesty's", sharp-eyed fans can see George Leech on screen as the strangled SPECTRE skier. Also, as Joseph Wiseman's double in "Dr No", wearing a machine gun-proof vest in "Goldfinger", fighting 007 at the climax of "Thunderball" on board the Disco Volante, and holding Melina at knife point in "For Your Eyes Only". Aside from Sean Connery, he was one of only a few regular Bond crew members to work on the rogue outing "Never Say Never Again". His final Bond credit was as Willoughby Gray's double in "A View To A Kill". He also worked on "You Only Live Twice", "Diamonds Are Forever", "The Spy Who Loved Me" and "Octopussy".
George Leech passed away on Sunday 17th June 2012. He is survived by two daughters. One of them, Wendy Leech, who was one of the first stunt-women in the business, is married to fellow 007 stuntman extraordinaire Vic Armstrong.