| | |
| --- | --- |
| | MI6 remembers all those the Bond canon has sadly lost this year, and their unique contributions to the world of 007, on screen and off... |
In Memoriam
31st December 2012
Bob Anderson (1922-2012)
Olympic fencer, movie stunt coordinator and sword master Bob Anderson began his career in film after competing in the Olympics for Great Britain, when he was called up to help out on Errol Flynn's "Master of Balantree" after the competition. Over the years he became the most legendary of sword-fight trainers/choreographers, having trained everyone from Errol Flynn to the cast of the "Lord of the Rings" film trilogy. 2002's "Die Another Day" saw James Bond and Sir Gustav Graves settle a bet in Blades Club, and it was Anderson who was sword master on the stunt sequence. He also supervised the training of the actors, including Rosamund Pike who played Olympic fencing champion Miranda Frost. But that was not his only brush with Bond. Way back in 1963, he was was an uncredited stunt coordinator on the second film in the series, "From Russia With Love". He also performed the same duties on the spoof version of "Casino Royale" in 1967.

Full Story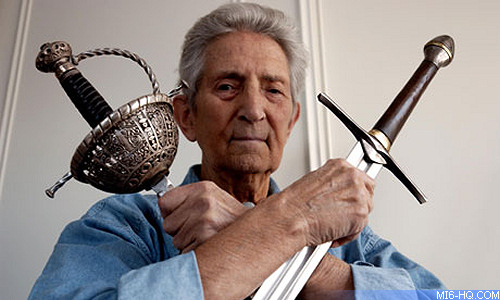 Gerry Anderson (1929-2012)
As well as inventing the fantastic puppetry technology Supermarionation and putting it to use in the hit shows "Stingray", "Joe 90" and probably most famously "Thunderbirds", TV producer Gerry Anderson also pitched a story idea or two to Harry Saltzman and Cubby Broccoli, producers of the Bond films. In the early 1970s Anderson was asked to provide a treatment of Ian Fleming's novel, "Moonraker". He worked with his usual script editor Anthony Barwick to create an outlandish plot. The partnership created a seventy page draft which featured a supertanker, a villain named Zodiak and identical triplets Tic, Tac and Toe. The treatment was turned down and Eon Productions decided to move ahead with Sean Connery in "Diamonds Are Forever" instead. Some of his ideas bore similarity to those used in the final shooting script of 1977's "The Spy Who Loved Me", and for a while Anderson considered suing the production company, EON. The matter was ultimately settled out of court with Anderson selling the rejected treatment to the Broccoli family for £3,000. Two years ago Anderson was diagnosed with dementia and spent his time raising awareness of the illness and funds to further research the disease. Anderson passed away in December aged 83.

Full Story
Hal David (1921-2012)
Best known for his collaborations with composer Burt Bacharach and his association with Dionne Warwick, Harold Lane "Hal" David was an American lyricist. For James Bond fans, he will be lovingly remembered for his on "We Have All the Time in the World", written with John Barry and sung by Louis Armstrong for the 1969 James Bond film "On Her Majesty's Secret Service". Ten years later, David teamed up with Barry again for the title theme for "Moonraker" performed by Shirley Bassey. But his work with Bond began in 1967 on the spoof "Casino Royale" for which his song "The Look of Love" was Oscar-nominated. Hal David died in the morning hours of September 1, 2012, due to a stroke. He was 91.

Full Story
Norman Felton (1913-2012)
Born in London, England, on 29th April 1913, Norman Felton became a successful television producer in America. The greatest successes of Felton's career came in the 1960s, when he produced and developed several classic television shows including The Man from U.N.C.L.E. and Dr. Kildare. It was Felton who approached James Bond creator Ian Fleming to collaborate in the development of U.N.C.L.E. When contractual obligations forced Fleming to pull out, Felton brought in Sam Rolfe to replace him. The show ran for more than 100 episodes, until 1968. He died of natural causes in Santa Barbara, California on June 25, 2012.

Full Story
Marvin Hamlisch (1944-2012)
Marvin Hamlisch, the composer and conductor best known for the torch song "The Way We Were," will be best remembered by Bond fans for his score to the 1977 adventure "The Spy Who Loved Me", including penning the title song "Nobody Does It Better" with his then-girlfriend Carole Bayer Sager. The song, performed by Singer Carly Simon, went on to be nominated for an Oscar in 1977 losing out to "You Light Up My Life." In a career that spanned over four decades, Hamlisch won virtually every major award: three Oscars, four Grammys, four Emmys, a Tony, and three Golden Globes. Hamlisch composed music for more than 40 motion pictures, including his Oscar-winning score and song for "The Way We Were," and his adaptation of Scott Joplin's ragtime music for "The Sting" for which he received a third Oscar. Marvin Hamlisch died in August in Los Angeles, California. He was 68 years old.

Full Story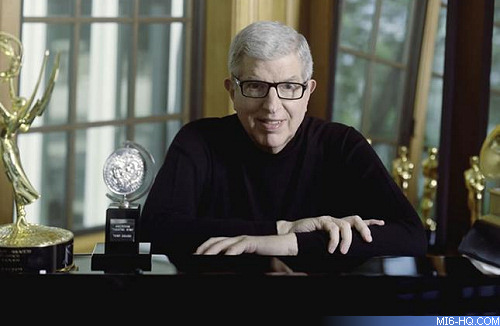 Bob Holness (1928-2012)
Whilst a household name in the UK for his work on television, legendary broadcaster and accomplished theatre actor Bob Holness has his place in 007 history for being the second person to portray James Bond after American actor Barry Nelson had appeared in CBS' American television adaptation of "Casino Royale" in 1954. In 1956, Holness played the title role in a radio play of Fleming's 'Moonraker' novel in the production based in Durban. Sadly, no known recording of the broadcast exists today, making it the ultimate lost Bond outing. Holness told the BBC in 2008 that the opportunity "just came up through a hole in the floor. I was doing lots of radio plays at the time but I wanted to do something a bit different, so when James Bond came up I ventured in and said yes." He said he had never heard of the character but that it "became an amazing part to play and the response from listeners was terrific".

Full Story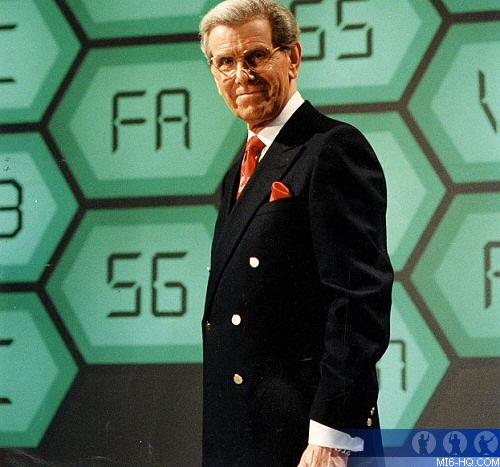 Robin Ian Evelyn Milne Stuart de la Lanne-Mirrlees (1925-2012)
Robin Ian Evelyn Milne Stuart de la Lanne-Mirrlees (born 13 January 1925) was an author and former officer of arms at the College of Arms in London. Mirrlees held the post of Rogue Dragon Pursuivant from 1952 to 1962 at the College of Arms in London, and was promoted to the office of Richmond Herald of Arms in Ordinary until his retirement in 1967. During this time at the College of Arms, he provided James Bond creator Ian Fleming with background information pertaining to heraldry and the College of Arms. In return, Fleming created the character Sable Basilisk and based him upon Robin for his 1963 novel "On Her Majesty's Secret Service". Mirrlees' traced his own genealogy and discovered the common family trait that they are born with no ear lobes. Fleming grafted this characteristic on to the book's villain Blofeld. This trait would be carried through to the film adaptation, although the character based on Mirrlees would have a name change to Sir Hilary Bray. After several years of ill health, he died at a nursing home in Stornoway on 23 June 2012, aged 87.

Full Story
George Leech (1921-2012)
Veteran stuntman George Leech performed stunt double duties, as well as appearing on screen himself as various goons and henchman, in multiple James Bond films from "Dr. No" in 1962 up to "A View To A Kill" in 1985. Born in London, England, on December 6th, 1921, George Leech started his film career in the mid 1950s in the Pier Angeli film "Port Afrique", and soon found himself in great demand. A few years later his first 'big action film' came with "The Guns Of Navarone". The following year he was engaged on a modest film called "Dr No" - it was to be the first of eleven James Bond films, which took him through to Roger Moore's last outing in "A View To A Kill" in 1985. George doubled for George Lazenby and Roger Moore, as well as having a few fisty-cuffs with Sean Connery and his adversaries. His other credits include "Chitty Chitty Bang Bang", "Kelly's Heroes", "The Eagle Has Landed", "Revenge Of The Pink Panther", "Superman" and "North Sea Hijack". George Leech passed away on Sunday 17th June 2012. He is survived by two daughters. One of them, Wendy Leech, who was one of the first stunt-women in the business, is married to fellow 007 stuntman extraordinaire Vic Armstrong.

Full Story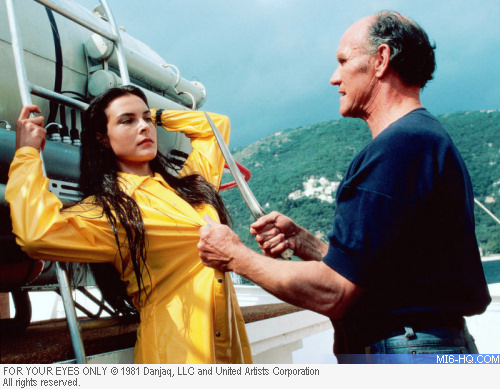 Harry Myers (?-2012)
Harry Myers photographed almost all the Bond premieres from "Dr. No" to "Tomorrow Never Dies" and his family carries on the tradition to this day. Myers learned the photo trade during the Second World War when he was employed at a photo journalist publication: London News Agency, where he worked between the ages of 14 and 17. After serving his time in the dark room and with a good head for names and places, Myers was soon dispatched on assignments. One fateful day he met Cubby Broccoli at a photoshoot, and struck up a friendship. At that time Cubby was still in partnership with Irving Allen, with whom he produced a number of war adventures, prior to 007. In 2007, Myers compiled some of his most famous photos from the Bond years (and beyond) into an autobiography: "Premieres and Pictures", which he co-wrote with John Willis & Gareth Owen. Harry Myers passed away on June 26th 2012.

Full Story
Tiny Nicholls (1922-2012)
British costume designer Tiny Nicholls was costume/wardrobe supervisor on 41 films in his career, five of which were consecutive James Bond films, from "The Man With The Golden Gun" in 1974 though "The Living Daylights" in 1987, working with Roger Moore and Timothy Dalton during their tenures. Tiny Nicholls passed away in July after a short battle with cancer.

Full Story
Not Forgetting...
Paul Stassino (1930-2012) - Angelo Palazzi, "Thunderball"
Bill Weston (1941-2012) - Stuntman in eight 007 outings including an acting credit as Blayden Butler in "The Living Daylights"
Joaquin Martinez (1930-2012) - "Die Another Day"