British actress Zena Moyra Marshall was born on New Year's day in 1925 in Nairobi, Kenya.
Her first big screen role came as a bit part (lady-in-waiting) in the Gabriel Pascal produced 1945 "Caesar and Cleopatra" that starred Claude Rains and Vivien Leigh in respective title roles. It would be 17 years before Marshall had her real brush with James Bond, but the film also featured an uncredited debut appearance from future-007 actor Roger Moore as a Roman Soldier.
Her exotic looks landed her several small parts in film and television, often being cast in ethnic roles, such as Italians and Asian characters. Notable films for the 5' 5" actress included "Good Time Girl", "The Lost People", "Helter Skelter", "So Long At The Fair", "Morning Departure", 'Three Cases Of Murder", and "Crosstrap".
In 1957, Marshall appeared in two episodes of "O.S.S.", a TV series based on the US spy agency during WWII, produced by ITC in the UK and distributed State-side by ABC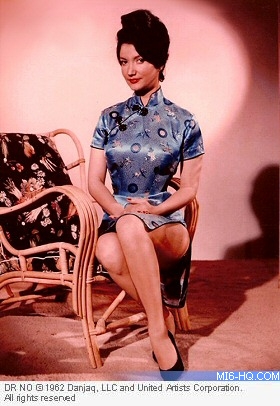 Above: Zena Marshall as Miss Taro in "Dr No".