Jaguar and Land Rover Announcement
9th February 2015
Jaguar and Land Rover have confirmed their vehicles that will be seen in the new James Bond film SPECTRE
By MI6 Staff
---
Jaguar Land Rover has announced its line-up of vehicles set to feature in SPECTRE, the 24th James Bond adventure, from Albert R. Broccoli's EON Productions, Metro-Goldwyn-Mayer Studios, and Sony Pictures Entertainment. These will include; Jaguar C-X75s, Range Rover Sport SVRs and Defender Big Foots which have been provided by Jaguar Land Rover Special Operations.
The Jaguar C-X75 will feature in a spectacular car chase sequence through Rome alongside the Aston Martin DB10. The C-X75 vehicles have been built in collaboration with Williams Advanced Engineering facility in Oxfordshire, England.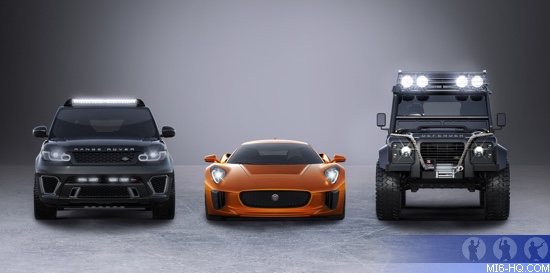 Scenes including the heavily modified Land Rover Defenders & Range Rover Sport SVR have already been filmed in Austria. The Range Rover Sport SVR is the fastest and the most powerful Land Rover ever. The highly capable Big Foots were constructed by the Special Operations division with huge 37-inch diameter off-road tyres to tackle the extreme terrain. They also feature bespoke suspension and enhanced body protection.
Managing Director of Jaguar Land Rover Special Operations, John Edwards, said: "This is an exciting partnership for Jaguar Land Rover and an opportunity to demonstrate the fantastic capabilities of the Special Operations team."
Jaguar and Land Rover vehicles have been involved in a succession of Bond films. Most recently, in 2012, the rugged Defender 110 Double Cab Pick Up was driven by field agent Eve Moneypenny in the opening sequence to SKYFALL.
You Might Also Like
Spectre (2015)
Could Bond's latest foe be behind the wheel of this Jaguar C-X75 concept car?
Spectre (2015)
Take a closer look at the principal cast of SPECTRE from the launch event photocall
---
Spectre (2015)
Briefing
SPECTRE (2015) is the new James Bond film and the 24th in the series. It will be the fourth outing for Daniel Craig as 007, and the second film to be directed by Sam Mendes from a screenplay by John Logan, Neal Purvis & Robert Wade. The new MI6 team of Ralph Fiennes (M), Naomie Harris (Moneypenny), Rory Kinnear (Tanner) and Ben Whishaw (Q) are all reprising their roles. The cast will include Lea Seydoux, Dave Bautista, Andrew Scott and Christoph Waltz. Production commences on December 8th 2014, with location work as early as 5th January 2015 in Austria. The film will also shoot on location in: Erfoud and Tangier, Morocco; Rome, Italy and Mexico City, Mexico. SPECTRE is scheduled for release on 7th November 2015.
Share The Story