| | |
| --- | --- |
| | Eva Green has been confirmed as the new Bond Girl - Vesper Lynd. Jeffrey Wright will play Felix Leiter, plus news on the rest of the international cast... |
Eva Green Is Vesper Lynd
16th February 2006
Casting Complete
Yesterday, Danish actor Mads Mikkelsen was announced as the villain of "Casino Royale" by director Martin Campbell at the Prague press conference. Today, Eon Productions have confirmed all of the remaining major roles in the forthcoming James Bond film.
French actress Eva Green will play the major Bond Girl role - Vesper Lynd. She was first rumours for the role last week by the British tabloids. The 25 year-old actress is best known for her role as Sibylla in the 2005 blockbuster "Kingdom of Heaven".

40 year-old American actor Jeffrey Wright will be the second black actor to play CIA agent Felix Leiter, following Bernie Casey in the 1983 rogue Bond production "Never Say Never Again". Wright recently wrapped filming of "The Visiting", starring the new 007 Daniel Craig!

Producers Michael G. Wilson and Barbara Broccoli said, "We are thrilled that Eva and Mads have joined the cast of 'Casino Royale' completing a first rate international cast. They bring exceptional talent to the characters Ian Fleming described so vividly in his first James Bond novel."

"After an extensive search we have found the perfect actress. Eva is one of France's most accomplished young actresses, now receiving international acclaim. She brings to the complex role of Vesper an exciting combination of enigmatic and seductive beauty."



"Likewise Mads has such a compelling onscreen presence and his riveting performances in 'Open Hearts' and 'Adam's Apples' convinced both us and director Martin Campbell that he was ideal for the role of Le Chiffre."



Amy Pascal, Chairman of the Columbia Pictures Motion Picture Group, added "Vesper is a pivotal role in 'Casino Royale' and it takes much more than beauty to make this role work."

"When you think about the great James Bond adventures, of course you think about action and espionage, but you need to have palpable sexual tension in the movie and in casting Vesper, we really needed to up the ante, because this character is very much an equal to Bond and central to our story."

"We believe Eva as Vesper, Mads as Le Chiffre and Jeffrey Wright as Felix Leiter are perfect additions to our cast and we couldn't be more excited about the way this project has come together."

The producers also confirmed that the cast is rounded out by talented international actors in feature roles, including; Giancarlo Giannini as Mathis, Caterina Murino as Solonge, Simon Abkarian as Dimitrios, Tobias Menzies as Villiers, Ivana Milicevic as Valenka, Clemens Schik as Kratt, Ludger Pistor as Mendel, and Claudio Santamaria as Carlos.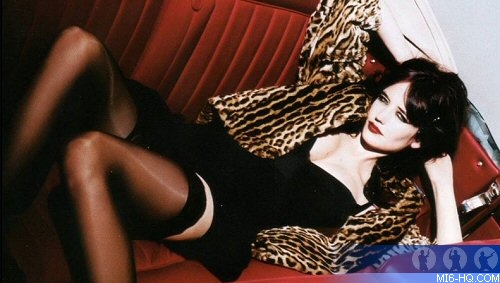 Eva Green Mini Bio
Eva Green, born on 5th July 1980 in Paris, France, is both an actress and composer. A twin of Joy Green, a non-identical sister, Eva is the daughter of French actress Marlène Jobert and Walter Green, a Swedish dentist. The multi-lingual Eva's name in Swedish is pronounced "grain." She studied in Paris and in London and performed on stage before making her film debut as the female lead in the Bernardo Bertolucci's 2003 film "The Dreamers" with Michael Pitt and Louis Garrel. In addition to acting, she composed music for the film. Described by Bertolucci as "so beautiful it's indecent," her performance brought her critical acclaim and she has finished her second movie role in the French film, "Arsene Lupin", directed by Jean-Paul Salomé and co-starring Romain Duris and Kristin Scott Thomas. In 2005, she had her first important role in Hollywood as Sibylla of Jerusalem in the movie "Kingdom of Heaven", her third film, as the female star alongside Orlando Bloom and Liam Neeson and directed by Ridley Scott.
Jeffrey Wright Mini Bio
Born on 7th December 1965 in Washington DC, USA, Jeffrey Wright graduated from Amherst college in 1987. Although he studied Political Science while at Amherst, Wright left the school with something that would prove to be more valuable: a love for acting. Shortly after graduating he won an acting scholarship to NYU, but dropped out after only two months to pursue acting full time. With roles in 1990's "Presumed Innocent", and the Broadway production of "Angels in America", (in which he won a well deserved Tony award), within a relatively short time Wright was able to show off his talent and ability on both stage and screen alike. His first major on-screen performance came in 1996 in the Julian Schnabel directed film "Basquiat". Wright's harrowing performance as the late painter Jean Michele Basquiat was critically acclaimed for its haunting accuracy and raw emotion. With a Tony, a Golden Globe, and an AFI award under his belt, the intensity of Wright's skill has been proven over and over again.
The cast and crew jet off to the Bahamas shortly to shoot a chase sequence at seaside construction site, then will be back to Prague for studio and location work, and Italy and the U.K.'s Pinewood.
Produced by Michael G. Wilson and Barbara Broccoli (Eon Productions) and directed by Martin Campbell, CASINO ROYALE is scheduled for release November 17, 2006. Principal photography started on January 30th 2006, with locations in the UK, Czech Republic (Prague), Italy, and the Bahamas. It will be British actor Daniel Craig's first outing as James Bond. He is the sixth actor to play the 007 role in the franchise.
Related Articles

Mads Mikkelsen Is Le Chiffre

Prague Press Conference Announced

Casino Royale Production Diary #4

Casino Royale Production Diary #3

Casino Royale Production Diary #2

Casino Royale Production Diary #1

Casino Royale Coverage

Casino Royale Production Status

Casino Royale Release Dates

Casino Royale Press Conference Video

Daniel Craig Press Conference

Official: James Bond 007 #6 is Daniel Craig

Daniel Craig Biography