| | |
| --- | --- |
| | London is buzzing ahead of the World Premiere of Casino Royale, the 21st James Bond adventure, which will open in Leicester Square tonight... |
Casino Royale Premiere Preview
14th November 2006
London is buzzing ahead of the World Premiere of Casino Royale, the 21st James Bond adventure, which will open in front of over 4000 people simultaneously in Leicester Square at 8:30pm on Tuesday 14th November 2006.

Casino Royale will take over Leicester Square as three of London's flagship cinemas - the Odeon Leicester Square, the Empire, and the Odeon West End - and will break records as the most attended film premiere ever held in the UK.

The world premiere of the film is also the 60th Royal Film Performance, and will benefit the Film & Television Benevolent Fund (CTBF), whose patron is Her Majesty Queen Elizabeth II.

The previous James Bond film, "Die Another Day" in 2002 was also a Royal Film Performance, held at the Royal Albert Hall.

Right: The Odeon Leicester Square will host the Royale Film Performance, with the Odeon West End and Empire theatres joining simultaneously with a big screen video-link.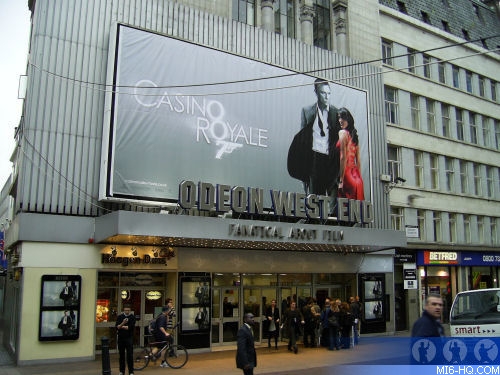 The stars and filmmakers will gather on the red carpet shortly after 7:00pm in the presence of Her Majesty Queen Elizabeth II and His Royal Highness The Duke of Edinburgh as they celebrate the film's release in theaters nationwide on November 16th.
Attending the premiere will be Daniel Craig, who makes his debut as 007 in Casino Royale, and stars Eva Green, Mads Mikkelsen, Caterina Murino, and Dame Judi Dench, as well as director Martin Campbell and producers Michael G. Wilson and Barbara Broccoli.

The event will be streamed live across MTV regional websites in Europe, Latin America, Brazil, and Asia. Fans everywhere looking for their first glimpse of Daniel Craig as he takes on the role of "007" can point their browsers to their local MTV sites to witness the premiere live from London, which will take place at 5:30pm GMT. Following the premiere, fans in North America can see highlights of the premiere at movies.mtv.com.


Produced by Michael G. Wilson and Barbara Broccoli (Eon Productions) and directed by Martin Campbell, CASINO ROYALE is scheduled for release on November 16, 2006 in the UK. Principal photography started on January 30th 2006, with locations in the UK, Czech Republic (Prague), Italy, and the Bahamas. It will be British actor Daniel Craig's first outing as James Bond. He is the sixth actor to play the 007 role in the franchise.
The film also stars Judi Dench, Eva Green, Mads Mikkelsen, Jeffrey Wright, Giancarlo Giannini, Caterina Murino, Simon Abkarian, Tobias Menzies, Ivana Milicevic, Clemens Schik, Ludger Pistor, Claudio Santamaria and Isaach de Bankole.
Related Articles

Casino Royale Coverage