| | |
| --- | --- |
| | MI6 rounds up the key quotes from the various Casino Royale cast and crew interviews given at the Bahamas press junket, including news on Bond 22... |
Casino Royale - Bahamas Interviews (1)
10th March 2006
Bahamas Press Junket
A gaggle of media organizations visited the set of "Casino Royale" in the Bahamas this week for a tour and a chance to interview the key players of the latest James Bond film. Reuters, ComingSoon, Extra TV and The Sun all published brief interviews with select cast and crew members, including new 007 Daniel Craig, Bond girl Caterina Murino, director Martin Campbell and producer Barbara Broccoli. Below are excerpts from the interviews published this week.
Preparing For The Role
Daniel Craig admitted he stewed on the decision to play Bond for about a year. Addressing why it took so long for the deal to be done, Craig said: "The script really... and Barbara badgering me. I hadn't seen a script at that point, and I was obviously giving it serious thought then. I'd have been stupid not to. But I hadn't seen a script and the process hadn't really gotten going. Once I sat down and read the story, I just thought that I wanted to tell this story. I really do. I mean, I'm a big Bond fan, and I love what he represents, and it was almost slightly annoying to finally read it and go, "Oh, Jesus! It's good!" And that was it, and we were away.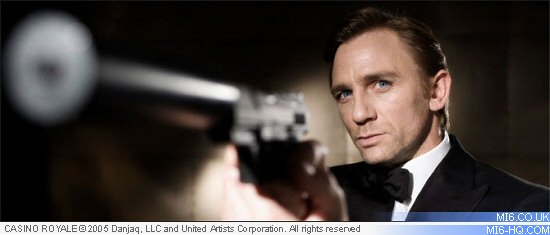 Producer Barbara Broccoli answered questions as to why Craig was the top choice from day one: "Well, he's a phenomenal actor. I think he's the actor that defies his generation of actors. I was a huge fan of his work, the films he'd made, and when we decided we were going to make "Casino Royale," it's obviously a big decision who we're going to use, and he was always in the forefront of our minds. Obviously, there was a lot of stuff in the press, but the reality was that he was in the forefront, and it wasn't until we were able to give him the script that we started talking, and once we did, things moved very quickly."
Craig added, " It was kind of normal. That's the weird thing. There's so much speculation going on, as there always is, but once Barbara gave me the script and I wanted to do it, I screen-tested, because there was a new producer on board with Sony who wanted to see if I could do it or not, and I got the job. It's kind of that simple."
Media Storms
The press has been awash with negative stories about Daniel Craig's work on the film so far, fan criticisms and the various "problems" he has had. On the subject of the pressures the role places on him, Craig said: "Of course, I'm aware of [the stuff on the internet]. The controversy is [something] I get. When I accepted the job, I understood there would be consequences, but I can't set myself up and protecting myself, I have to say "Okay, I'm going to accept this." Nobody knows more than I do how important this is, and basically, I've taken on this responsibility, and I'm going to give it my best shot, and once the film's made, then we'll see. But judge the movie, because that's the deal. As far as blocking it out is concerned, we're kind of doing a movie during the day. I go to the gym at night and I get home and sleep. I get up in the morning [and I go back to work]… that's my process at the moment."
Speaking about the criticism, Craig said: "You go mad if you believe any of it. You can't believe the good stuff. You can't believe the bad stuff. You kind of just take it in. But I'm focused on making this film. I've been trying to give 110 percent from the beginning and maybe after that (the criticism), I was trying to give 115 percent, but I mean, I'm giving everything I can."
What about the "fans" who already saying they will boycott the film? Craig was blunt with his rebuttal: "I know there are a lot of fans out there who James Bond is incredibly important to. I want to make it clear he is incredibly important to me as well. I am putting everything I can into this movie. We are putting in something else as well - an X factor we haven't seen before. We're making a movie, and I think we're making a really good movie. When it comes out, if they still feel the same way then, you know, screw them!"
But like all publicity, even the criticism of Craig has a plus side. "People are, thank goodness, in a way still incredibly interested," said casting director Debby McWilliams. "Virtually a day doesn't go by where we don't read something about James Bond in a newspaper and that can only be good for us I think."
Sex, Sadism & Snobbery
With all the talk of a back to basics Bond, and Craig admitting he will be bearing all for the torture scene, how will this affect the film's rating? Craig admitted, "We can't go fully monty in Bond, because we can't get the rating".

Producer Barbara Broccoli explained: "We're going back to the origins of the character and the story, but we feel that even though it's rougher and more complex, we're still making a family film. We're still making something, which is what we call heightened reality. It's more realistic and it's not as fantastical as the last couple [movies] have been or we've made through the series. There were times, when the films got very fantastical like with "Moonraker" and things like that. You change because you change with the times. At the moment, I think everybody is feeling very serious about the world and they don't feel frivolous about the world, and I think it's the right time to tell this story and Daniel's the right actor to play him."

Right: Daniel Craig with producers Michael G. Wilson and Barbara Broccoli back in October 2005 when he was unveiled as 007.



On the subject of the torture sequence from Fleming's original 1953 novel, Craig said: "I'm trying not to think about it. It's going to be the last day of shooting. The scene should feel tough. There's a definite wow factor. The men will be wincing, though I'm sure some women will be applauding". Director Martin Campbell added: "The ball-busting scene is going to be scarier than anything Bond has faced before, including sharks. He will be naked and some of the shots are very horrific."
Bonding With The New Girls
New Bond girl Eva Green, who plays the lead female role Vesper Lynd, was enthusiastic about the filming. ""It's exciting, very exciting," Green confessed, in nearly perfect British brogue. And Bond's other sidekick, Murino, didn't want to reveal too much either, but she did hint she may win Bond's heart: "I kiss him!" she slipped.
Bond 22 & Beyond
ComingSoon quizzed Broccoli about plans post Casino Royale, and are they working on a "sequel" already? Broccoli said: "We are. We're already thinking about it. We're in the early stages. It's an original story, but it's going to continue part of what the story is in this film." So what about the possibility of remaking some of the earlier Bond novels? "We don't plan to do that, but to coin a phrase, never say never."
Produced by Michael G. Wilson and Barbara Broccoli (Eon Productions) and directed by Martin Campbell, CASINO ROYALE is scheduled for release November 17, 2006. Principal photography started on January 30th 2006, with locations in the UK, Czech Republic (Prague), Italy, and the Bahamas. It will be British actor Daniel Craig's first outing as James Bond. He is the sixth actor to play the 007 role in the franchise.
Related Articles

Eva Green Is Vesper Lynd

Mads Mikkelsen Is Le Chiffre

Prague Press Conference Announced

Casino Royale Production Diary #4

Casino Royale Production Diary #3

Casino Royale Production Diary #2

Casino Royale Production Diary #1

Casino Royale Coverage

Casino Royale Production Status

Casino Royale Release Dates

Casino Royale Press Conference Video

Daniel Craig Press Conference

Official: James Bond 007 #6 is Daniel Craig

Daniel Craig Biography