| | |
| --- | --- |
| | The title of the 22nd James Bond film is "Quantum of Solace". MI6 reports on the new film, plus an exclusive first look at the cast and characters... |
Bond 22 Is "Quantum of Solace"
24th January 2008
The title of the 22nd James Bond film has been officially confirmed as "Quantum of Solace". The title is from an Ian Fleming short story first published in the 1960 collection "For Your Eyes Only".

Co-producer Michael Wilson told the BBC today name had only been decided "a few days ago", adding the story's start point would be "literally an hour after the last film left off. "We thought it was an intriguing title and referenced what happened to Bond and what is happening in the film," he said.

Details of Daniel Craigs's second outing as 007 were revealed at the production's first press conference, held today (Thursday 24th January 2008) at Pinewood Studios in the south of England. "Quantum of Solace" sees 007 out for revenge on a mission that takes him to Austria, Italy and South America. Filming for the latter location will take place in Panama.

The plot follows on directly from "Casino Royale," as Bond aims to uncover the truth about Vesper, the beauty who betrayed him, and discovers that she had been blackmailed.



According to the synopsis, Bond girl Camille, played by Ukrainian-born Olga Kurylenko, leads the secret agent to Dominic Greene, member of a mysterious organization and a ruthless businessman, seeking to control huge natural resources. Greene is played by Frenchman Mathieu Amalric, who starred in the Oscar-nominated "The Diving Bell and the Butterfly."
"It is not a revenge movie," said co-producer Barbara Broccoli. "It's a lot more complicated than that. It has lots of action but it also deals with the inner turmoil Bond is feeling."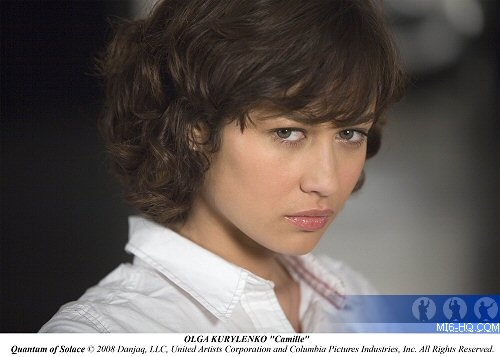 Above: Olga Kurylenko plays the lead female interest 'Camille'
"James Bond is after revenge, and Camille is after revenge and they have slightly different goals, but in the end they are going to have to collaborate," Kurylenko told reporters. She said that she has yet to film any scenes, but was working hard preparing for her role. "I'm doing weapons training and body flight training for aerial scenes and stunt work for fighting. My days are so long, and it's very physical. She's going to be very different from the previous Bond girls. She's a fighter. This girl is going to kick ass. She's on her own mission and she's driven by revenge."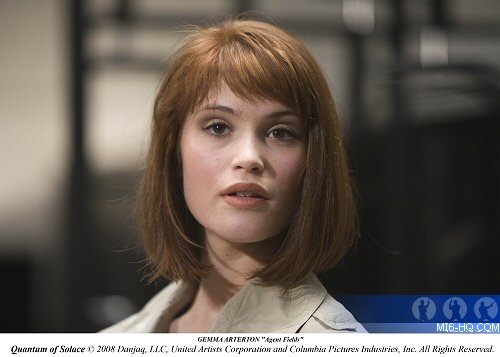 Above: British actress Gemma Arterton plays MI6 Agent Fields
Actress Gemma Arterton plays an MI6 agent in the film and has already shot her love scenes with 007. She said: "I felt like a giggly girl, and I felt so young and inexperienced - but I kissed James Bond!" The 21-year-old, who recently starred in the St Trinian's film, said her Bond role is "not so frolicksome" and her character "fresh and young, not sultry and a femme fatale".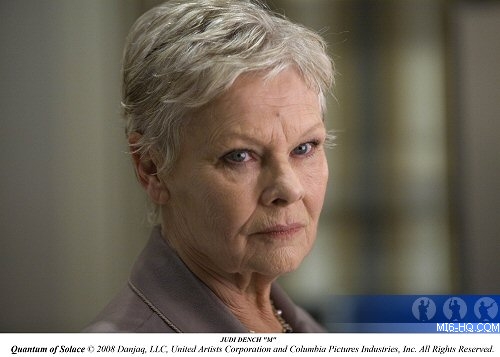 Above: Dame Judi Dench reprises her role as M
Dame Judi Dench, who returns for her sixth Bond film, said: "I get to do more in this one, which is brilliant." She hinted that her character's relationship with Bond would be "pretty prickly".

Asked if Casino Royale star Eva Green would appear in Quantum of Solace, co-producer Barbara Broccoli said: "There are no flashbacks in the film, but she's certainly on Bond's mind."

On a tour of the main Bond set at Pinewood, journalists were shown 3 stages, all of them set in the Italian city of Siena. In the largest, two actors including Craig's stunt double, swung from ropes and fought in an old art gallery.

Footage also featured an explosion at the art gallery. Another scene showed him meeting M - played by Dame Judi Dench - outside in the snow.

Filming on the movie has been taking place at Pinewood since November.