| | |
| --- | --- |
| | Daniel Craig, Olga Kurylenko, Mathieu Amalric and Gemma Arterton talk more about their characters in "Quantum of Solace"... |
Production Diary (8)
30th January 2008
| | | |
| --- | --- | --- |
| Bond girl Olga Kurylenko has admitted in an interview for TheLondonPaper that she had never seen a Bond film until she reached the age of 16 when she moved from her Ukrainian homeland to France. The 28-year-old said she still hadn't seen any of the movies before Pierce Brosnan took up the role but that she'd got the box set of 20 films to find out what she'd been missing. She said: "Who doesn't want to be a Bond girl? It's a cult movie. I'm not worried about being stereotyped. Camille is a strong independent woman who is charming and sensual. Bond women are strong at the same time as being feminine. I've never worked so hard training for any other movie, I'm using weapons, driving cars and involved in fight scenes." | | |
French actor Mathieu Amalric, who plays the film's sinister villain Dominic Greene, has previously said he modeled his character to some extent on a couple of European leaders, "I've been taking details, the smile of Tony Blair, the craziness of Sarkozy (French President), he's the worst villain we've ever had. He's really dangerous. In fact he walks around thinking he's in a Bond film."
But unlike some of the Bond villains that have gone before him, Amalric's character will not be so hot with his fists. He said: "He was supposed to have a secret skill. But we had this idea that maybe if the villain doesn't know how to fight, James Bond would be more surprised. Sometimes anger can be much more dangerous. I'm going to fight like in school. I was going to say 'like a woman'. You are allowed to do things that you are not allowed to do in real life, especially with a woman." He added that a modern villain was "like a gas" and could be found anywhere.
Quizzed yet again about the title, Daniel Craig said of the story that it is taken from: "It debates relationships and how they hurt and how people can be hurt. I think it relates to how Fleming was feeling at the time. I think it relates to the fact that if you don't have that Quantum of Solace in a relationship you should give up. If you are not respecting each other it's over, and at the end of the last movie Bond doesn't have that because his girlfriend has been killed." Craig, who spoke to press on the day of the title's unveiling after shooting a scene of the interior of MI6, was sporting a plaster on his thumb following a stunt injury from using ropes.

Craig said of reprising the scene where he comes out of the ocean: "I'm not going to put them trunks on ever again but there will be a certain amount of nudity in this movie." On the subject of how he feels about repeating or exceeding the success of Casino Royale, Craig said "I'm as nervous as I was before if not a little more than before. We thought the last film was great but who knew that people would respond in the way that they did? We owe to people who saw the last movie to give them something even better."
"There is revenge, a fight within him and a need to do his job, to solve this riddle that has been given him. Everything that he understood about the world has been turned upside down ... because he has fallen in love" - Daniel Craig
British actress Gemma Arterton, whom Daniel Craig describes as a "rising star", spoke to IGN on the press day and revealed a little about her character. "She's actually quite funny, and very real, and someone that you could know from down the road", she said. "There's something very fresh about her. For me, she's got stuff that all women can identify with."
Arterton also revealed how she landed the part. "I went to two auditions. I was in a play at the Globe in London and the casting directors came to see me in it. I was playing a very Bong girly type of role, but Shakespeare. It was Rosaline in Love's Labour's Lost, and she's very haughty and sharp. They asked me in for an audition, which I never thought I'd get. Then I got a second audition where I met the director and everyone, then I had a screen test which was petrifying, then I got the part."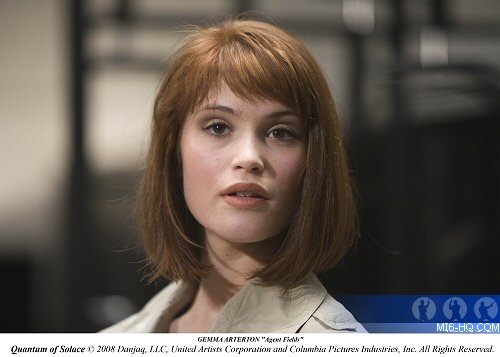 The screen test involved both Daniel Craig and the director Marc Forster. "I hadn't read the script so I didn't know anything about anything, which was quite nice actually, and it was such a bizarre day. They make you look as great as they can and then you go on set and there were literally about 60 people looking at you and thinking, "Could she be a Bond girl?" Everyone's eyes are on you and everyone's whispering and looking. It's so uncomfortable, but you have to do it because the producers have to see what you look like. Then I acted a scene with Daniel and it was very brief. He said, "Hello, how are you?" And I said, "I'm really scared." And he said, "Don't worry." We did the scene and he said, "Well done." And that was it. Then the director Marc Forster said, "OK... good luck." And I thought, "No, I've lost it." But I didn't, so that was great."
She got the good news on the last day of filming "3 And Out" on location in Gibraltar, whilst she was on a boat in full scuba gear. "The producer got a phone call from my agent and passed the phone over and he just sang the Bond theme down the phone to me. And I was like, "Nooo! Oh, my God." After composing herself and shooting the last scenes for that film, Arterton and her co-stars went out for dinner and celebrated with "lots and lots" of champagne.
Her character Agent Fields will have a scene with Bond that is reminiscent of "something iconic", and will be involved in a "little bit of a fight" but not the major action which Olga Kurylenko's character Camille will deal with. Arterton, who says her character is "very, very cute", will shoot her scenes at Pinewood Studios and Panama.