| | |
| --- | --- |
| | James Bond's latest adversaries conspired to discuss how they face off against 007 in "Quantum of Solace" during the shoot in Bregenz... |
Production Diary (37)
29th August 2008
Back in May, on the set of the gigantic production of "Tosca", the newest enemies of Bond - Mathieu Amalric, Anatole Taubman and Jesper Christensen - took questions from the press regarding their highly anticipated characters. The shoot in itself was two years in the making and this unusual staging of Puccini's opera was the perfect backdrop for a villainous rendezvous in the 22nd James Bond production. Prior to the actors mingling among theatre-goers, the "Quantum of Solace" stunt crew had been on hand, canning an action piece or two in which a unknown goon takes a plunge.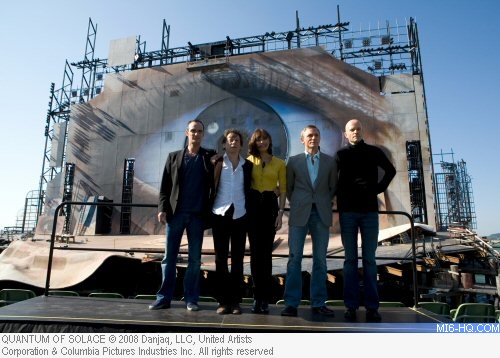 Jesper Christensen, who plays the Quantum deal maker Mr. White, was on set with production in Austria. Although he has already shown his face in 2006's "Casino Royale", he was as tight lipped as ever regarding the fate of his character. He did explain that White would be match Daniel Craig's portrayal of Bond, for realism alone. "The modern Bond is slightly dumb, very violent, very efficient and very sort of going his own way. And you're not quite sure you can trust him with anything because, obviously, he's not that clever," Christensen reasoned. "So, if you compare him to the Roger Moore version, which was always sort of on top of everything carrying a drink, Daniel's is a much more angry person."
The brooding eco-terrorist Dominic Greene, portrayed by Amalric Mathieu, is shaping up to be a stellar nemesis. Amalric explained that he and director Marc Forster were not afraid to paint this villain as a blank canvas.
The production team had discussed giving Greene a secret skill, but quickly rejected this idea for the sake of keeping the character plausible: "Why should I know kung fu? He's just a guy who works in ecology," Amalric told the press. "That's how I can surprise Bond, because he's used to fighting people who are professionals. It's Tai [bo]. It's boxing. He knows how to deal with that, but a guy who doesn't know how to fight? It's like a schoolyard brawl."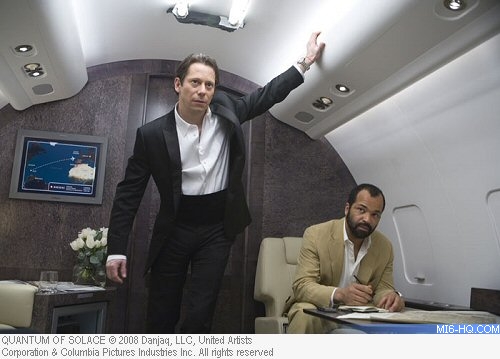 One of the last characters to come under mass-media scrutiny was Greene's sidekick, the bowler-cut, evil-eyed Elvis. MI6 reported back in December 2007 that Taubman had landed a henchman role but for several months the details of his character were shrouded in mystery. However, at the press call the German actor was happy let slip a few secrets.

"He's a Francophile. I wouldn't say he's French. We're family, Dominic Greene and Elvis. They're family so they speak French together. He's from Europe, really. No, he's not Algerian. He's definitely from Europe," explained Taubman, clearing up some of the confusion.

"Mr. Greene saved him really. He saved him from the streets. I would have gotten lost and maybe not even survived. Maybe have gotten killed. Elvis is a guy from the streets so at some point Dominic Greene said, "I've got to help my cousin, my relative and just take him along. Otherwise, he will not make it." So I've been enjoying life next to him, traveling the world and 'saving' the world."
Taubman confirmed Amalric's statement that the modern villain need not have any quirk or feature, yet still be menacing indeed: "I think nowadays the real big, big, big baddies are normal people, people you wouldn't tell are villains. People from the farming lobby, people from the weapon lobby, people from the oil lobby."
"I love my character. I love my Elvis," he said, explaining that in a modern Bond film there is less of a rift between the villain and his henchman. Confirming that in "Quantum of Solace" Elvis will have a significant amount of screen time. "He's a funny character but it's not like a big, deep, soul-searching, Stanislavski method acting journey I need to go on in order to feel the dynamics of Elvis... He definitely has the potential to be memorable, this Elvis."