| | |
| --- | --- |
| | MI6 rounds up media reaction from around the globe to the recently released Quantum of Solace trailer... |
Teaser Trailer Sparks A Global Reaction
5th July 2008
On June 30th, the first teaser trailer for "Quantum of Solace" took the Internet by storm. Released several hours earlier than initially planned, the first preview gave fans a peak at the 22nd adventure bound for cinemas later this year.

The 1 minute 30 second preview picks up in the midst of MI6's interrogation of the shady Mr. White, but soon explodes into a montage of hi-octane action. Daniel Craig recently commented saying that "Solace" would triple the action of 2006's "Casino Royale".

The teaser was premiered on AOL.com in the US and MSN.co.uk in the UK. No sooner than the long anticipated preview of Daniel Craig's second outing as 007 swept the web, fans and media outlets were buzzing.

Many praised the timeless nature of James Bond while others commented on James Bond's latest ride, the striking Aston Martin DBS. But whatever made the biggest impression, the reaction throughout the globe was intense spectacle. One week on, MI6 rounds up the feedback from a host of the internet's media outlets to gauge the global feedback.
The buzzword among fans is 007's vengeful attitude and possible rogue status - something the producers have been discussing since the beginning of the production - and reporters picked up on this from the get go:
"Perhaps borrowing from the 'Bourne' action movies starring Matt Damon, the 'Quantum of Solace' trailer also hints at Bond becoming an outsider at his own spy agency." - Reuters.com
"With this 22nd entry into the world of Bond, we see James going out for revenge following the death of Vesper Lynd. And by revenge we mean the ass-kicking, bad guy-stabbing, motorcycle-jumping, Aston Martin DBS-racing kind of revenge. Yeah, the good kind." - Jalopnik.com, Detroit, USA
"The trailer for the upcoming Bond flick "Quantum of Solace" (which sort of sounds like a post-emo band) was released online yesterday. And the lesson we seem to be able to take away from the trailer overlaps a bit with another recent blockbuster [The Incredible Hulk]: You wouldn't like Bond when he's angry." - Paste Magazine, Georgia, USA
"The trailer for Quantum of Solace has been unleashed and it looks every bit as bad-ass as Casino Royale." -
TheHDRoom.com

"Quantum of Solace might be one of the strangest titles in the history of the James Bond franchise - but if the trailer for the latest movie is anything to go by, the latest installment will be anything but." - Brisbane Times, Australia

"That pose where the 007 logo becomes the title, and Daniel Craig totes the machine gun over the hill - awesome." - Mlive.com, Michigan USA

There were many who felt that the 22nd James Bond film has got the mixture of daring stunts, striking scenery and glamorous ladies just right:

"Complex action sequences engaging powerful vehicles, boats and airplanes are mixed with more intimate scenes and love affairs between Bond and his diverse love interests." - Enews 2.0, UK
"There isn't a single double entendre in the above trailer for the forthcoming James Bond movie, "Quantum of Solace."There's also not a single cheesecake shot of a hot chick — though Daniel Craig does bare his "stubby torso" (my wife's words; if only my torso were so "stubby"). And then there's the decidedly unkitschy tag line: "For love, for hate, for justice, for revenge." In other words, this is a whole new Bond — or at least an even deeper look at the dark, brooding, badass 007 Craig portrayed in "Casino Royale," one of the best films in the entire series." - ReadExpress.com
"Bond films have a long tradition of fantastic trailers, showcasing the requisite thrills and spills, evil villains and beautiful women that make Bond the institution it so rightly is, and this one doesn't disappoint. Without going too much into the film's plot, the teaser gives away just enough of the murky, complex world Bond is about to be thrown into." - Den of Geek, UK
"No disrespect to Sean Connery - the greatest Bond ever - but I'd rather watch Daniel Craig's 007: a lethal, unrelenting, cold-blooded spy." - Tulsa World, Oklahoma, USA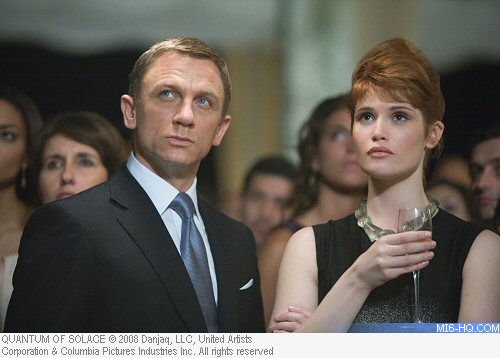 "More than half a million have watched it on YouTube" - AP
In particular, the second's worth of romantic interlude between Craig and his co-star, the British actress Gemma Arterton, has tickled a few fancies online:
"Quantum of Solace movie promises high octane action: Fast cars, speeding powerboats, leaping motorcycles and a first glimpse of Bond girl Gemma Arterton undressed." - Courier Mail, Australia
"Here's the trailer, avec Daniel Craig, shirtless and very, very pouty..." - Herald, New Zealand

Australian news outlet LiveNews, summed up the storm that this first 'Solace' trailer has caused: "Bond fans worldwide are already licking their lips over the next installment of Bond's newest chapter, not set for release until November this year. The phrase "Quantum of Solace trailer" is already one of the top ten hot search items on Google." - LiveNews, Australia

And of course the best dressed remark, "Finally, a preview of why those 40 bespoke Tom Ford suits were sacrificed." Men.Style.com