| | |
| --- | --- |
| | Between shooting scenes on location in Turkey, Daniel Craig and co-stars took time out to speak to the world's media and stand for a photo-call today... |
Skyfall Istanbul Press Conference
29th April 2012
Daniel Craig, Ola Rapace, Bérénice Marlohe and Naomie Harris have joined the 007 crew on location in Turkey this week to capture scenes for the forthcoming 23rd James Bond adventure, dubbed "Skyfall". Their arrival marks the third time that James Bond has shot on location in the country, with "From Russia With Love" and "The World Is Not Enough" having been set, in part, in Istanbul.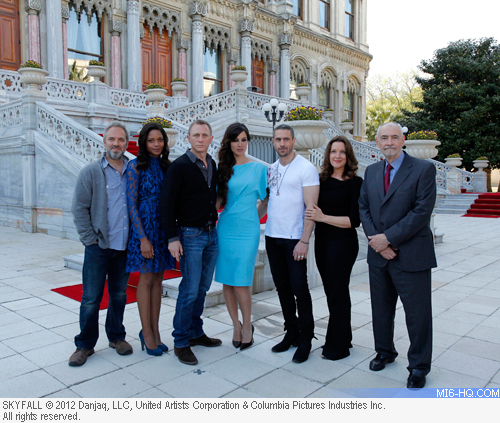 Above: (left to right) Sam Mendes, Naomie Harris, Daniel Craig, Bérénice Marlohe, Ola Rapace, Barbara Broccoli & Michael G. Wilson.
The cast and crew assembled at the Ciragan Palace hotel in Istanbul on 29th April, where Sam Mendes spoke about the history the Bond franchise has with this remarkable city, and about not wanting to adhere to clichés of a particular locale. "It's very frustrating when you see how a country can be reduced to cliché," says the director. "Obviously the goal is, in a very short sequence in a movie, to try to capture the essence of the country, both old and new. Both its traditions and its modernity... We looked at everything the city could give us and we feel we've chosen what's best for the movie and the story but also what's best for the city itself."
The producers were keen to emphasise the bond that 007 had developed with Turkey. The first time EON Productions took a picture to Istanbul was during the Spring of 1963, where Sean Connery and director Terence Young shot on location at the Grand Bazaar, Hagia Sophia and on the Bosphorus. 36 years later, the production team was back filming scenes for "The World Is Not Enough" at Galata Tower, Karakoy Customs Port, Kasimpasa Ferry Terminal, Kucuksu Kasri (Electra's Villa), Maiden's Tower, and sweeping shots of the Istanbul rooftops. The latter will be reprised in "Skyfall" with an intense action sequence involving motorbikes, which the second unit have been hard at work filming.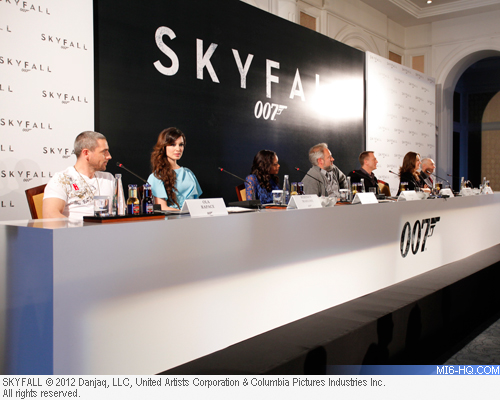 Above: (left to right) Ola Rapace, Bérénice Marlohe, Naomie Harris, Sam Mendes, Daniel Craig, Barbara Broccoli & Michael G. Wilson.
Daniel Craig explained how fruitful his collaboration with Sam Mendes became from the moment there was a possibility they would be working together: "We were in continued conversation, once Sam agreed to do it. We weren't supposed to talk to each other because MGM hadn't done the deal. But we couldn't shut up. It was a chance for us to reread Ian Fleming, and we started emailing each other, 'What about this and what about this?', and that's how it snowballed."