| | |
| --- | --- |
| | MI6 reports from the Dutch premiere of "Skyfall" as well as a suave private screening of the new Bond adventure, hosted by Heineken... |
Bonding In Amsterdam
31st October 2012
Heineken have been sponsoring in the James Bond franchise since 1997, but it is with the latest Bond film, "Skyfall", that the collaboration between EON and the famous Dutch beer brewers became something more.
| | | |
| --- | --- | --- |
| Indeed, for the 23rd James Bond adventure, Heineken finally placed a bottle of beer in the secret agent's hands. Whilst this news provoked strong and often quite critical reactions from the press and Bond fans alike, Heineken were adamant that they didn't want Bond's choice of beverage to appear forced and unnatural. In their discussions with EON, Heineken made it clear they were not aiming to replace Bond's trademark vodka Martini, and were emphatic that when Bond drinks beer, he should not do so in his tuxedo in the casino. Their argument for Bond drinking Heineken was that Craig's Bond is far more of a rough diamond than previous Bonds, a man who would conceivably be a beer drinker. They also looked to the original Fleming novels, where James Bond is quite content to sip a beer when it fits the occasion. EON, it seems, were in agreement. When the two parties sat down and looked at the script for "Skyfall", there was once clear occasion where Bond might well have needed a beer - and so it is in only this scene that 007 turns to Dutch lager. | | |
However, the association does not end there, as EON and Heineken were able to entice Daniel Craig (who has never been fond of shooting television commercials) and Bérénice Marlohe, to star in the Heineken TV spot, which was helmed by award winning Dutch filmmaker Matthijs Van Heijningen.
So, to celebrate this long association and the deepening of the partnership between EON and Heineken, the brewers held an exclusive, private screening of "Skyfall" in their home city of Amsterdam, attended by Bond girl Bérénice Marlohe, which was followed by a lavish James Bond themed party.
MI6 were lucky enough to be invited along to enjoy the film, and to meet with up with Bérénice prior to the screening. Marlohe was also in attendance at the Netherlands' official "Skyfall" premiere on Sunday 28th October. Held at the Pathe Tuschinki Theatre in Amsterdam, the Bond girl was joined by local celebrities and Bond alumni - including "The Living Daylights" villain, Jeroen Krabbe and Daphne Deckers of "Tomorrow Never Dies" fame.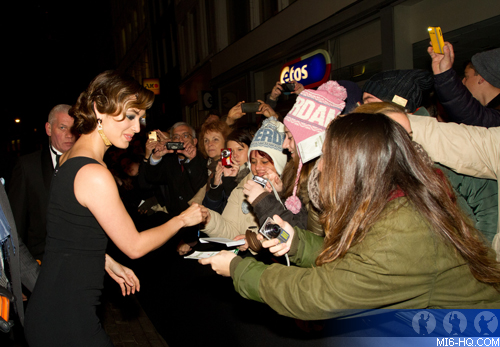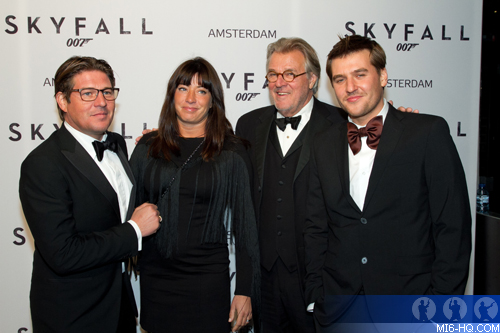 Above: (top) Berenice Marlohe signs autographs for the fans; (bottom) Jeroen Krabbe (second from right) and family.