| | |
| --- | --- |
| | Shooting of a key stunt sequence on a freight train may move to South Africa unless bureaucrats in India can green light filming permissions soon... |
India Train Sequence Derailed?
22nd August 2011
As MI6 first reported back in April, the 23rd James Bond film (AKA 'Bond 23') is planning a major train stunt sequence for Daniel Craig's third outing as 007. Plans to shoot the action along tracks in Ahmedabad and Goa in India may now be in jeopardy due to bureaucrats taking too long to agree on important line closures in order for the production to shoot on location, and EON may be forced to switch to their back-up plan: South Africa.
Pravesh Sahni of India Take One Productions, which would look after any Indian leg of the Bond 23shoot, told The Times of India, "This could be one of the biggest Hollywood movies shot in our country."

"Trains are the backbone of the film. We'll pay for the shooting and also mention Indian Railways in the credit line."

"The shooting was supposed to happen in October-November. Now, we've postponed it to January-February. For the past three months, we've been trying to get things in order. The film has Daniel Craig doing stunts on a freight train."

"While the Indian Railways has given us permission to shoot, I need to meet someone and explain how important it is for us to block two tracks for eight hours a day over five to six days. For the past 15 days, I've been trying to get someone to hear me out."

"South African authorities are waiting to provide everything that is required to support this movie. If we can't get this cooperation from India, the film will no longer be shot here."



"One can always divert trains if one is convinced about the importance of shooting this international movie in India. We shot "[Mission: Impossible - Ghost Protocol]" in Mumbai and the roads had to be blocked because we couldn't have shot stunts with a car speeding down the road at 180 km/hr amidst regular traffic," Sahni said.
The matter has been brought to the attention of railway minister Dinesh Trivedi, and he has promised to look into the matter according to the paper.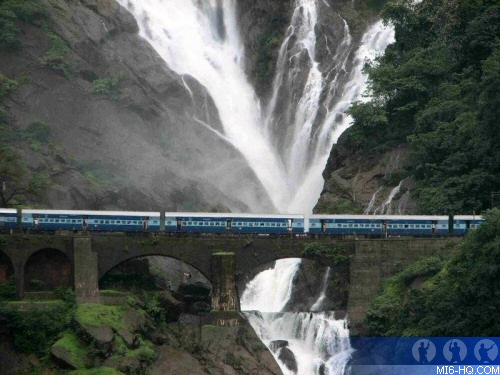 Above: Stunning scenery runs the length of the 738km Konkan Railway along the coast of India from Mangalore in Karnataka to Mumbai in Maharashtra through Goa, along to Western Ghats
India has been touted as a filming location since pre-production started on "Die Another Day" in 2001. Back in the latter half of 1982, "Octopussy" filmed in India over a three week period, and based their production in Udaipur. The locales gave the film a unique feel, and the film still plays daily in the city to tourists visiting the sights made famous by Roger Moore's penultimate outing as 007.
Briefing
The 23rd James Bond film, "Skyfall", commenced principal studio photography on 7th November 2011 for a UK release on October 26th, 2012 and the USA on November 9, 2012. MGM will produce, finance and distribute 007's 23rd adventure in partnership with Sony Pictures Entertainment.
Daniel Craig will be returning as the legendary British secret agent, alongside Judi Dench as "M", with Sam Mendes directing a screenplay written by Neal Purvis, Robert Wade and John Logan. The cast will also include Bérénice Marlohe, Javier Bardem, Naomie Harris, Ralph Fiennes, Albert Finney and Ben Wishaw. The film will shoot at Pinewood Studios and on location in London, England; Scotland; Shanghai, China and Istanbul, Turkey.
It will be the longest gap between Bond movies without a change in the lead role. In addition, 2012 marks the 50th anniversary of the EON Productions series of James Bond films.