| | |
| --- | --- |
| | The long period of speculation is over as Javier Bardem confirms Bond 23 and reiterates his enthusiasm for 007... |
There Will Be Bond
11th October 2011
Oscar-winning actor Javier Bardem has had his name associated with the James Bond franchise and a possible role in James Bond 23 since it was leaked to the industry newswires that Bardem had been approached by high-ranking Eon Productions officials and courted for a role in the forthcoming picture. MI6 now understands that the offer came from Producer Barbara Broccoli herself.
This news first broke in January 2011, and quickly became the first creditable of rumour of the 007 casting season. The same month Bardem spoke to the media about the posibility of being Bond's new enemy but was sure to enphasise that nothing was final. He made clear to a journalist that it was not a slam-dunk and he would carefully read the script that Sam Mendes provided before signing onto the production.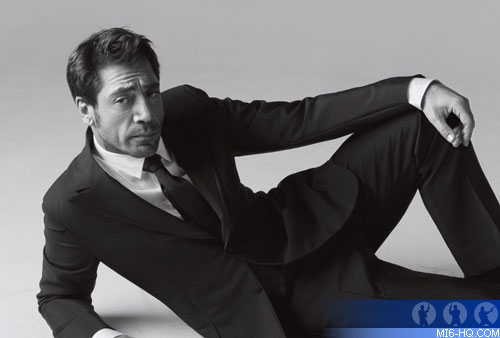 Above: Javier Bardem
At the same time, Bardem let slip that the role was a great offer and he was a long-time James Bond fan. "When I was little, I went watching Mr. Connery doing James Bond with my father. Who in the world would think I'd be in one of those movies? They're changing the whole thing, the whole dynamic," the Spanish actor explained. "I'd be playing Bond's nemesis, yes, but it's not that obvious. Everything is more nuanced."
The promised role would not be the only thing that was shady, as by April 2011, another fantastic offer was on the table for the actor: the lead in the Stephen King penned "Dark Tower" series. Again, industry experts were confident that the role belonged to Bardem, should he choose to accept the offer. However, the studio responsible for the "Dark Tower", Universal, delayed financing a potential trilogy in order to make budget cuts. By July 2011 the option on the rights to the King material was up and Bardem was back in the hot seat for James Bond.
However, it would take until September for Bardem's name to make news in association with 007 once more. Current star Daniel Craig let slip in an MTV interview that Javier Bardem and the other likely contender for a role, Englishman Ralph Fiennes, were both still in the picture, saying "I hope so", when asked directly if the two stars were to be involved in his third James Bond adventure.
The rumours were confirmed this week when Bardem answered a direct question on the subject of his upcoming villainous role in James Bond 23. In an interview with ABC's Nightline, Bardem was asked to tell viewers "about the next villain you are going to play, in James Bond". To which the actor replied, "I am very excited, my parents took me to watch the movies, and I saw all of them, and to play that is going to be fun. They chose me to play this man, but I cannot give you many details."