| | |
| --- | --- |
| | Sony has confirmed its long-awaited partnership with MGM to distribute James Bond 23... |
Sony Seals Deal For 007
13th April 2011
Press Release
LOS ANGELES, CA., April 13, 2011 - Sony Pictures Entertainment will remain in the James Bond business after reaching an agreement with MGM to co-finance and theatrically market and distribute Bond 23 worldwide, it was announced today by MGM Co-Chairmen and Chief Executive Officers Gary Barber and Roger Birnbaum and Sony Pictures Chairman and CEO Michael Lynton and Co-Chairman Amy Pascal. Sony will release the next film in this iconic franchise on November 9, 2012 throughout the world except for select International territories, where MGM will directly oversee distribution.
Sony Pictures and MGM look forward to Sony Pictures co-financing and distributing Bond 24 on a similar basis.

Additionally, MGM and Sony Pictures have agreed to explore co-financing opportunities on future motion pictures produced by each of the respective studios for the next five years.

The two studios have collaborated directly and indirectly in recent years on numerous films, including Casino Royale, Quantum of Solace, 21, Yours, Mine and Ours, The Pink Panther, and the forthcoming Kevin James comedy Zookeeper.


Above: Co-Chairman Chief Executive Officers Gary Barber & Roger Birnbaum.
The announcement of the agreement to distribute Bond 23 adds another high-profile title to Sony's 2012 slate, which also includes Men in Black 3 and The Amazing Spider-Man, as well as I Hate You, Dad, starring Adam Sandler, Here Comes the Boom, starring Kevin James, 21 Jump Street, Resident Evil 5 and Total Recall.
"Sony Pictures is the ideal studio partner for us as MGM re-enters the filmmaking business. We have longstanding relationships with Michael and Amy and look forward to what promises to be a prosperous future together," said Barber and Birnbaum.
"In addition to working together on Bond, this deal expands our relationship with MGM as we explore co-financing opportunities on other high-profile projects," Lynton said. "Gary and Roger are incredibly thoughtful and experienced leaders who are outstanding creative executives and respected moviemakers. While we are excited to be back in the Bond business, we also look forward to future collaborations and I am confident that this agreement will be long-term, lucrative, and beneficial to both studios."

"After successfully working on the re-launch of the James Bond franchise with Casino Royale and Quantum of Solace, we could not be more proud or privileged to continue our association with Barbara Broccoli, Michael G. Wilson, Daniel Craig, and the talented teams at EON and MGM," said Pascal.

When Sony released Casino Royale and Quantum of Solace, the films had record-high grosses for the Bond franchise, with Casino Royale taking in $599 million in worldwide ticket sales and Quantum of Solace generating $577 million.
About Metro-Goldwyn-Mayer Studios Inc.
Metro-Goldwyn-Mayer Studios Inc. is actively engaged in the worldwide production and distribution of motion pictures, television programming, home video, interactive media, music, and licensed merchandise. The company owns the world's largest library of modern films, comprising around 4,100 titles. Operating units include Metro-Goldwyn-Mayer Studios Inc., Metro-Goldwyn-Mayer Pictures Inc., United Artists Films Inc., MGM Television Entertainment Inc., MGM Networks Inc., MGM Distribution Co., MGM International Television Distribution Inc., Metro-Goldwyn-Mayer Home Entertainment LLC, MGM ON STAGE, MGM Music, MGM Consumer Products and MGM Interactive. In addition, MGM has ownership interests in domestic and international TV channels reaching over 130 countries. For more information, visit www.mgm.com.
About Sony Pictures Entertainment
Sony Pictures Entertainment (SPE) is a subsidiary of Sony Corporation of America, a subsidiary of Tokyo-based Sony Corporation. SPE's global operations encompass motion picture production and distribution; television production and distribution; home entertainment acquisition and distribution; a global channel network; digital content creation and distribution; operation of studio facilities; development of new entertainment products, services and technologies; and distribution of entertainment in more than 140 countries. Sony Pictures Entertainment can be found on the World Wide Web at http://www.sonypictures.com.
About EON Productions
EON Productions Limited and Danjaq LLC are wholly owned and controlled by the Broccoli/Wilson family. Danjaq is the US based company that co-owns, with MGM, the copyright in the existing James Bond films and controls the right to produce future James Bond films as well as all worldwide merchandising. EON Productions, an affiliate of Danjaq, is the UK-based production company which makes the James Bond films. The 007 franchise is the longest running in film history with twenty-two films produced since 1962. Michael G Wilson and Barbara Broccoli took over the franchise from Albert R 'Cubby' Broccoli in 1995 and have produced some of the most successful Bond films ever, including Casino Royale and Quantum of Solace.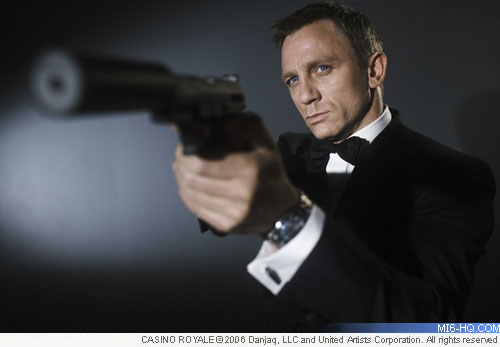 A Matter Of Time?
A number of industry commentators predicted that this announcement would not be long coming. Deadline has called the deal the "worst kept secret in Hollywood", and in February 2011 it was leaked that Sony was the last remaining interested party still in discussion with Barber and Birnbaum. Previously, however, Paramount and Fox were in talks with MGM's new executives about a deal for 007. It was previously rumoured that Daniel Craig's blockbuster, "The Girl With The Dragon Tattoo" would be part of the MGM/Sony agreement, just what the details of that deal are is still yet to be seen.