As MI6 has previously reported, there were never any plans to shoot the 24th and 25th James Bond films back-to-back, despite tabloid rumours to the contrary. The same reporters are rowing back on those claims, and (now) correctly stating that they will be shot as individual films. The press speculation hinged on news that John Logan has been signed to pen both screenplays.
Associate Producer Gregg Wilson told MI6 Confidential magazine (issue #19) that Logan had not handed in an early draft, again as rumoured by the press, but that late last year they were in fact "no where near" the treatment stage for Bond 24. Things have seemingly progressed well since then, with the Daily Mail now reporting that two treatments for the next film by Logan are in circulation with the core Bond team.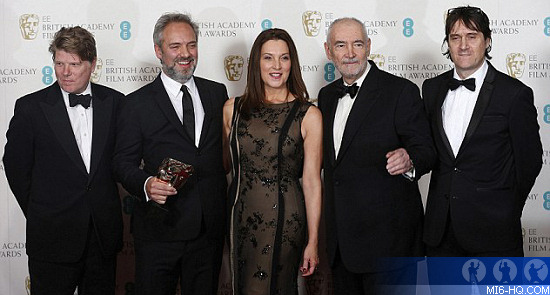 Above: The 'Skyfall' team at the BAFTA awards last weekend.
After initially saying that "Skyfall" had exhausted him and that he would need a break before even considering returning to the franchise, director Sam Mendes is now apparently '75%' of the way to signing on to Bond 24.
Speaking at the BAFTA awards last weekend, when quizzed about whether he would return to helm the next 007 outing, Mendes told reporters: "I've had a great time, it's been a huge learning curve and we would want to make a better movie next time around, and if we thought we could do that they might let me have another go again." In the back-stage interview, the producers made it quite clear that they want the "Skyfall" director back for Bond 24.
Due to his raft of commitments (helming a musical version of 'Charlie And The Chocolate Factory' for the Theatre Royal which opens on May 18th, producing a new vampire hunter television drama series with writer John Logan for a US cable network, and directing 'King Lear' at the National Theatre which opens in January 2014), it is unlikely that production on Bond 24 could start until early-2014. EON are understood to be willing to push back the start date to accomodate Mendes.
A summer 2015 or holiday 2015 release frame for Bond 24 seems the most likely if Mendes signs to return, given the director's attention to detail in pre-production and the length of the "Skyfall" shoot.
Bond 24 will see Daniel Craig back as 007 for his fourth and penultimate film of his current contract, and the return of the new MI6 team comprising Ralph Fiennes (M), Naomie Harris (Moneypenny) and Ben Whishaw (Q) as they are all optioned through Bond 25.
Briefing
SPECTRE (2015) is the new James Bond film and the 24th in the series. It will be the fourth outing for Daniel Craig as 007, and the second film to be directed by Sam Mendes from a screenplay by John Logan, Neal Purvis & Robert Wade. The new MI6 team of Ralph Fiennes (M), Naomie Harris (Moneypenny), Rory Kinnear (Tanner) and Ben Whishaw (Q) are all reprising their roles. The cast will include Lea Seydoux, Dave Bautista, Andrew Scott and Christoph Waltz. Production commences on December 8th 2014, with location work as early as 5th January 2015 in Austria. The film will also shoot on location in: Erfoud and Tangier, Morocco; Rome, Italy and Mexico City, Mexico. SPECTRE is scheduled for release on 7th November 2015.