| | |
| --- | --- |
| | 'Skyfall' director Sam Mendes has started to put distance between himself and talk of helming Bond 24... |
Not So Fast
19th October 2012
"Skyfall" director Sam Mendes, who knows by now that he has a sure fire hit on his hands with the 23rd James Bond film, is doing the usual press and TV interviews to promote the upcoming adventure. Although the media seems keen to promote the idea that the British director will be back to helm 'Bond 24' - which is already in pre-production - Mendes is starting to hint that he may sit the next movie out.
Although he said he would be up for another film at the kick-off press conference for "Skyfall" based on his experience so far (he had been involved for over a year before cameras finally started rolling in November 2011), reading between the lines of his latest interviews, it seems he is starting to make the case for a future announcement that he will be working on other projects.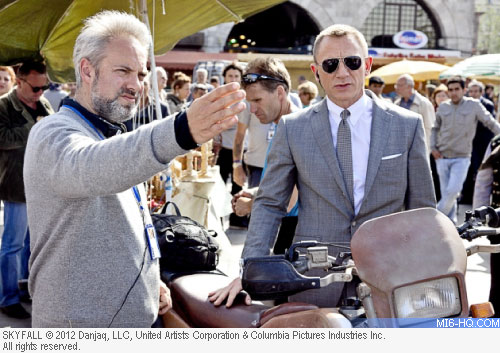 Above: Sam Mendes directs Daniel Craig in Istanbul.
Asked by Time Out whether he would be up for another Bond adventure, Mendes initially sounded positive: "I've enjoyed it enough to do it again. I think the choice is in the audience's hands. If people love the movie and they want to see another one from the same people who brought you Skyfall, then that would mean a lot to me. I would feel like, 'Well, actually there are people who really want to see it.'"
But he then added an important clause: "But I feel like I've put everything I want to do with a Bond movie into this Bond movie. I would have to feel the same again to do another one. So, it would take a lot of thought to try and make it as special to me as this. I'm knackered, but I've loved it."
Next up? Mendes has been confirmed to direct a stage production of Roald Dahl's Charlie and the Chocolate Factory at the London Palladium which will open in June 2013.
Briefing
SPECTRE (2015) is the new James Bond film and the 24th in the series. It will be the fourth outing for Daniel Craig as 007, and the second film to be directed by Sam Mendes from a screenplay by John Logan, Neal Purvis & Robert Wade. The new MI6 team of Ralph Fiennes (M), Naomie Harris (Moneypenny), Rory Kinnear (Tanner) and Ben Whishaw (Q) are all reprising their roles. The cast will include Lea Seydoux, Dave Bautista, Andrew Scott and Christoph Waltz. Production commences on December 8th 2014, with location work as early as 5th January 2015 in Austria. The film will also shoot on location in: Erfoud and Tangier, Morocco; Rome, Italy and Mexico City, Mexico. SPECTRE is scheduled for release on 7th November 2015.