Brutal Bond - Bathtub Electrocution
17th October 2014
MI6 looks at the moments in the series when James Bond is at his most hardcore
By MI6 Staff
---
Bond is on assignment in an unknown Southern American country and, having completed the mission successfully - and in style - Bond is advised not to return to his hotel room for fear of a tail. Instead he plans an evening with a dark, brazen dancer from a local club. His rendezvous with her in her changing room, where she is bathing, does not go quite to plan.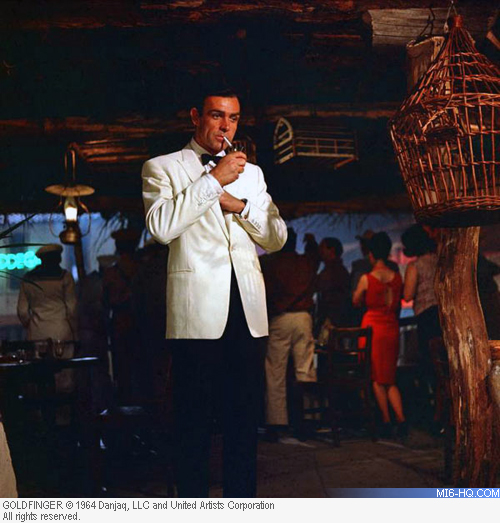 "First I have some unfinished business to attend to."
As Bond strips off his iconic white tuxedo jacket and holster, the pair embrace. Almost immediately, Bond spots a movement, glistening in the eye of his lovely Bonita (Nadja Regin). The goon, who'd hidden in the room out of sight - and, it appears, is in cahoots with the femme fatale - lunges at 007. Bond defends himself with Bonita taking the brunt of the attack. The pair tussle, with Bond initially getting the brunt of the blows, pinned to the wall. He eventually gets the upper hand and the goon goes flailing into the bath. Bond's holster and trusty PPK are close at hand for the nameless attacker, and for a moment Bond pauses, fearing for his life. He springs on the opportunely-placed electric heater throwing it - still plugged in - into the bath. The goon howls in pain as the water conducts the electricity and inflicts a painful death.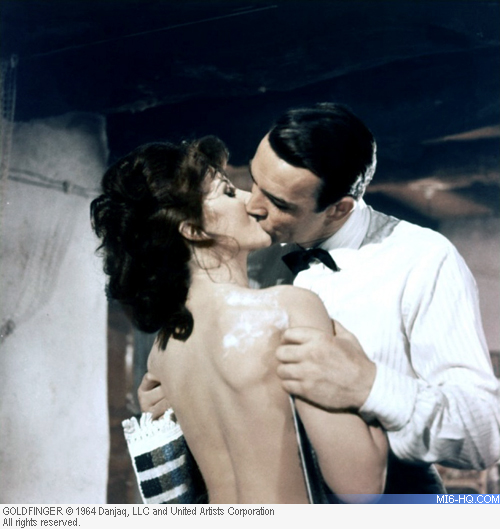 The sequence was filmed early in the shoot for "Goldfinger", representing Connery's earliest work on the film. The Bond star arrived on set on 9th March 1964 and set to work on the now famous pre-titles sequence. The sequence was devised, in part, by director Guy Hamilton who was helming his first Bond production and keen for the pre-titles to be a frivolous opener with no apparent connection to the rest of the film. Screenwriters Paul Dehn and Richard Maibaum embraced the idea. Other Bond pictures would take a leaf from this book, including "Thunderball", "Moonraker", and "Octopussy". It is frequently voted one of the franchise's most entertaining pre-titles and certainly set the tone for the rest of the film.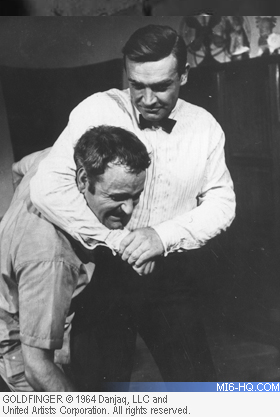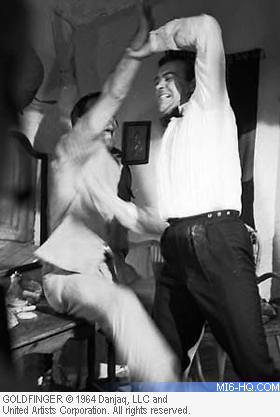 "Shocking. Positively shocking."
You Might Also Like
Sean Connery
Shortly after 'Goldfinger' opened in UK cinemas, American newspapers published a profile piece on Sean Connery and his wife
Locations
James Bond is checked into the Fontainebleau Hotel when 'M' tasks his top 00-agent to keep tabs on the villainous Goldfinger
---
Goldfinger
Share The Story