It was a moment so out of character for Roger Moore's portrayal of James Bond, so he thought, that the actor would have the be convinced by writer, director and executive producer to see it through. When it made it to the big screen, it became one of the stand-out moments in his tenure as 007.
In "For Your Eyes Only", Bond identifies the paymaster of Melina's parents assassin as Emile Leopold Locque, a Belgian enforcer last seen in Cortina, northern Italy. Local agent Ferrara sets up a meeting with Bond and Kristatos, who gives him false information about Locque's alliance. The hitman tries to see 007's demise at the end of a ski jump, and yet another attempt is made on Bond's life before he discovers his trust-worthy ally Ferrara has been killed and left clutching a white dove pin.
Bond travels to Corfu and has a rendezvous with Colombo's mistress Countess Lisl, who is killed the following morning on the beach, again by Locque. 007 awakes in Colombo's headquarters and the truth is revealed: Locque is working for Kristatos. They team up to raid a warehouse where Locque is overseeing a drugs smuggling operation, and after an intense fire-fight, Locque attempts to flee in his car.
Unperturbed by the seeming disadvantage in speed, Bond sprints up the steps of the mountainside and beats Locque to the top. Bullets shatter the early morning silence as 007 hits his target, sending Locque's car crashing through the wall and left teetering on the cliff edge. Finally confronting the killer of both Countess Lisl and Ferrara, Bond flicks the dove pin at Locque to acknowledge his game is up. A swift kick of the car door sends Locque to his doom.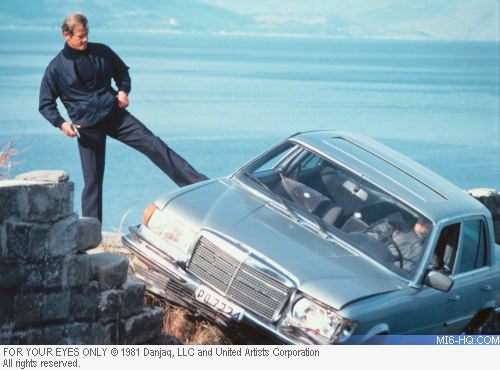 Bond: "You left this with Ferrara, I believe."
Moore was reluctant to film the scene of Bond kicking a car over the edge of a cliff, saying that it "was Bond-like, but not Roger Moore Bond-like." Michael G. Wilson later said that Moore had to be persuaded to be more ruthless than he felt comfortable. Wilson also added that he and Richard Maibaum, along with John Glen, toyed with other ideas surrounding that scene, but ultimately everyone, even Moore, agreed to do the scene as originally written.