Les Ambassadeurs Club
19th July 2014
James Bond's Casinos: Le Cercle at Les Ambassadeurs Club in central London features in 007's debut outing 'Dr. No'
By MI6 Staff
---
On Screen: When James Bond wants to relax, one of his favourite pursuits is gambling. In 'Dr. No', 007 takes the evening off in the upmarket Le Cercle at the Les Ambassadeurs Club in central London where he plays chemin de fer against the delightful Sylvia Trench. We first see the interior of the club, which overlooks Hyde Park, when an MI6 agent strides past the concierge in search of 007. Bond is pulled away from the game after introducing himself with the immortal line: "Bond, James Bond."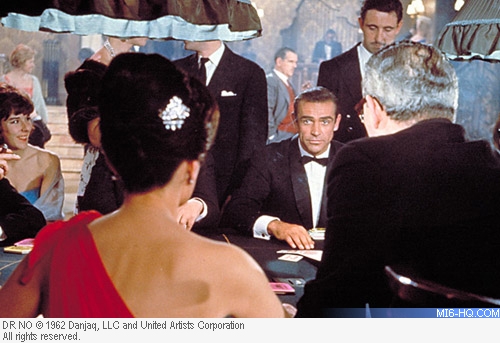 Director Terence Young borrowed a delicate series of revealing shots, from the William Dieterle film, 'Juarez' (1939) in order to capture the game between Bond and Trench. The sequences uses a series of close-ups of the character without revealing the face of Sean Connery, cross-cutting with the other characters in the scene and the gambling table. The club was recreated in Pinewood Studios by Ken Adam for Bond's famous introduction on the silver screen, and only the real exterior was used in the film.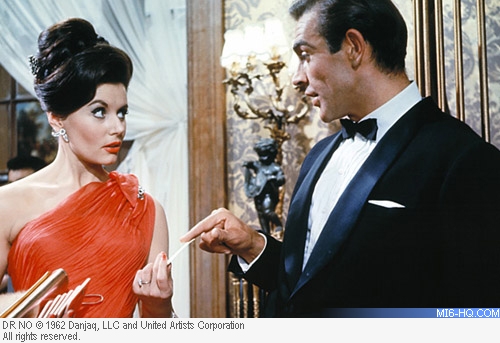 In Person: Les Ambassadeurs Club, or "Les A" as it is fondly referred to by its members, gained a reputation as one of London's most exclusive and distinguished gaming and dining clubs with a membership drawn from the world's aristocracy, diplomats, heads of state, chiefs of commerce and celebrities since the early 19th Century. When John Mills relocated Les Ambassadeurs Club to No. 5 Hamilton Place in 1950, the club returned to the limelight and resumed its fascinating history. Over the coming years, Les Ambassadeurs Club was home to various ventures, including The Milroy Nightclub, The Garrison Club and Le Cercle, one of London's first gaming clubs complete with French croupiers, Paris-made chips and correct kidney-shape tables. Le Cercle was something of an innovation and as such, when it opened in May 1961 (to members of Les Ambassadeurs only) it attracted the notice of The Times Newspaper, which was most impressed by its "high standard of professionalism and sophistication".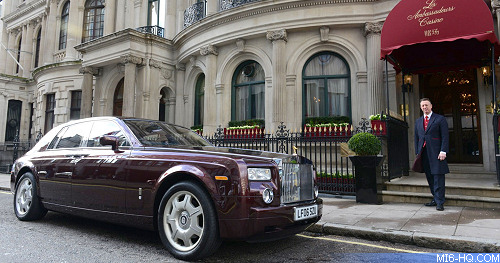 Related Articles
007's London (Part 1)
Dr. No Location Guide
Share The Story