MI6 Confidential 2015 Season Pre-Order
16th December 2014
James Bond magazine MI6 Confidential has launched the 2015 season preorder package - buy now and save
By MI6 Staff
---
James Bond magazine MI6 Confidential has launched the 2015 season preorder package. You can sign up today to receive all five issues to be released next year in one simple payment - and save!
Take part in MI6 Confidential's 2015 season preorder package offer:
Receive five magazines as they are released throughout 2015 (issues #29, #30, #31, #32 & #33);
Pay the cover price of just four issues;
Get priority shipping on all five magazines as they are released;
Never miss an issue, many sell out and are now out of print;
Preorder today for yourself, or as a gift for a James Bond fan
Amongst a smorgasbord of 007 movie and literary features, 2015 will continue to celebrate the Bond phenomenon as we have been in conversation with even more cast and crew from the franchiss.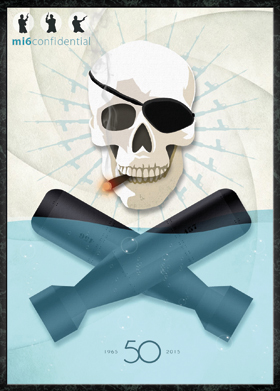 We will also be building toward the release of SPECTRE in October 2015 with coverage of the newest James Bond adventure.
To get a taste of what MI6 Confidential has covered in the past, head on over to the back issues page.
All subscribers will also receive a specially commissioned 'Thunderball' 50th anniversary postcard confirming your 2015 order. The first 500 subscribers (to renew or enrol) will also receive an original 1979 'Moonraker' promotional sticker.
For more information and to order online, visit www.mi6confidential.com
If you subscribed to 2013 or 2014, you can renew with your existing information by following the directions on this page.
In 2014, MI6 Confidential featured... Interviews with Bond star Pierce Brosnan, screenwriters Neal Purivs and Robert Wade; multi-Bond directors John Glen and Guy Hamilton; stunt performers Vic Armstrong, Bobby Holland Hanton, Paul Weston and Corky Fornoff; United Artists executive David Picker; Bond girls Maud Adams, Britt Ekland, Lana Wood, Honor Blackman, Shirley Eaton, Tania Mallet, Nadja Regin, Margaret Nolan and Trina Parks; 007's co-stars Clifton James and Carmen Du Sautoy. Also featured were retrospectives on the casting of Bond girls Denise Richards, Teri Hatcher, Carey Lowell & Talisa Soto; the new Young Bond author Steve Cole and a history of the spin-off novels; exhaustive historical accounts of 007 and the censors in the Craig era, James Bond's diet, John Barry's compositions for Bond, the secret history of James Bond Jr on screen and in print, Ken Adam's designs for Goldfinger, the architect who lent his name to a Bond villain, the cut scenes and might-have-beens from 50 years of Bond films, the art of the Licence Revoked marketing campaign, the pre-production on the Bond film that might have been Dalton's third outing, and of course full coverage of the December 4th SPECTRE announcement, with early views from the cast and crew.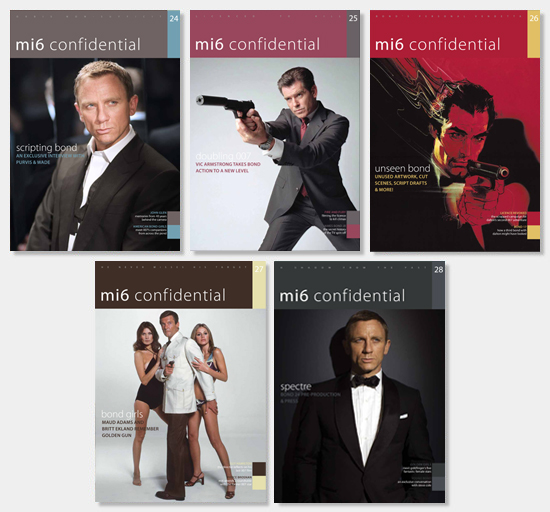 Related Articles

MI6 Confidential - Magazine Website
You Might Also Like
Bond Style
As the holiday season fast approaches, David Leigh shares some classic cocktail recipes as enjoyed by Fleming's literary spy
Collecting
MI6 previews the new book by David Leigh that details every one of 007's tipples in his literary and cinematic adventures
---
Share The Story