| | |
| --- | --- |
| | Take a look at the 50th Anniversary stamp collection and pre-order your limited edition first day covers online from Buckingham Covers... |
50th Anniversary Stamps
27th April 2012
After the incredibly successful series of covers celebrating the centenary of Ian Fleming in 2008, 2012 marks another big milestone for Bond fans everywhere, as we celebrate the 50th anniversary of the release of the first Bond film. Commemorate the action, the suavity and the tounge-in-cheek of James Bond with these special 50th Anniversary covers!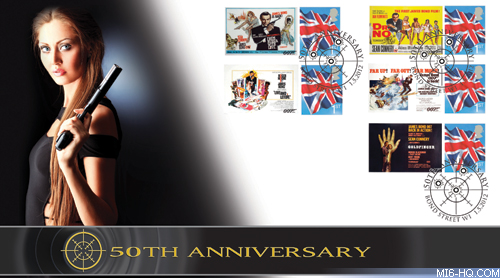 SOLD OUT
The stamps from the sheet are spread out over two covers, with cover A bearing the following stamps: Dr. No, From Russia With Love, Live and Let Die, On Her Majesty's Secret Service, and Goldfinger. Cover B bears: For Your Eyes Only, Moonraker, Goldeneye, The Living Daylights and Casino Royale. The film posters selected are a result of an official poll held on 007.com.
The individually numbered, limited edition sheet will be launched on 1st May 2012.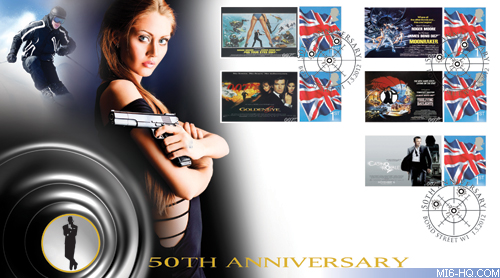 SOLD OUT
A limited number of these covers will be available as a special signed edition. The signer for these covers is still to be confirmed. Stay tuned to MI6 for the news.