| | |
| --- | --- |
| | Revealing letters from Ian Fleming to his dust jacket artist Richard Chopping are up for auction this week... |
Fleming Correspondence Auction
6th April 2010
Up for auction this week at Swann Galleries in New York is a an archive of correspondence from James Bond author Ian Fleming, artist Richard Chopping, and others involved in the production of the 007 novels. It provides fascinating look into the creative process between Fleming and the illustrator of the iconic dust jacket images that are so familiar to James Bond fans. Chopping was responsible for nine covers between 1957 and 1966 beginning with From Russia, with Love, through Octopussy and The Living Daylights, as well as the covers for Kingsley Amis's James Bond Dossier and John Gardner's Licence Renewed.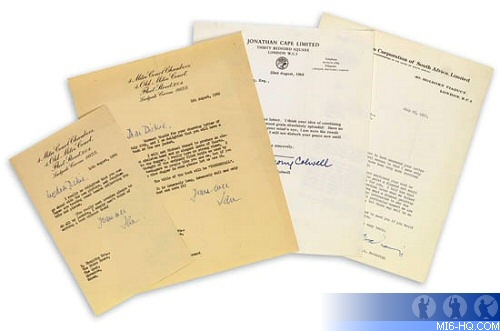 "No-one in the history of thrillers has had such a totally brilliant artistic collaborator!" - Ian Fleming (1959).
Lot 103 - Estimate $12,000-18,000
Together, 62 Letters including: 12 Typed Letters Signed by Fleming to Chopping; 9 Letters from Chopping, mostly copies, including one carbon and one fair copy to Fleming; and 41 letters to Chopping by others, including one of the directors of Fleming's publisher Jonathan Cape Limited, Fleming's secretary, and others involved in the production of the books and Chopping's dust jacket designs. Single 8vo sheets. Mostly London and Essex, 1950s-60s

The majority of the letters to Chopping are from Michael Howard, one of the main directors of Jonathan Cape Limited, many of which contain details about the jacket art, praise for his work, payment information, copyright issues, and other related topics. Some amusing letters between the Howard and Chopping involve the procurement of a toad for the cover of You Only Live Twice:
1 August, 1963: "Dear Michael, . . . I decided that it might be quicker (which it hasn't been) and more interesting (which it certainly has been) to try and trap the toad myself" . . . and proceeds to tell the highly amusing and detailed story of his "Livingstone" - esque expedition with the curator of the Colchester Natural History Museum to locate amphibians in England.
Other letters are from various Cape staff members, Fleming's secretary Ira Trueblood, and a few from companies that would help Chopping with props, for example the Anglo American Corporation of South Africa, Limited, concerning the loan of a real diamond to use as a model.
The letters from Fleming to Chopping discuss specific ideas for the jacket art, titles of the books, changes to be made, and other comments that illustrate the care and detail that went into their design:
18 March, 1959: "As you will have gathered, the new jacket is quite as big a success as the first one and I do think Capes have made a splendid job of it . . . I am busily scratching my head trying to think of a subject for you again. No-one in the history of thrillers has had such a totally brilliant artistic collaborator!"
4 August, 1960: " . . . I am delighted that you will have a bash at the new jacket. As to the dagger, I really have no strong views. I had thought of the ordinary flick knife as used by the teenagers on people like you and me, but if you have a nice dagger in mind please let us use it. The title of the book will be `Thunderball.' It is immensely long, immensely dull and only your jacket can save it!"
5 November, 1963: "First of all a thousand congratulations on the new jacket. It is quite in your topmost class and Annie loves it also. You and I are really a wonderful team."
---
Lot 104 - Estimate $500-750
Autograph Letter Signed "My Dear Enid" to author and playwright Enid Bagnold, with Bagnold's Typed Letter, unsigned, to which Ian Fleming replies. 1 1/2 pages, 8vo, written on recto and verso of a single sheet, on "Goldeneye, Oracabessa" stationery. Oracabessa, Jamaica, 15 February [1963]
Bagnold, best known for the 1935 story National Velvet which was filmed in 1944 with Elizabeth Taylor, wrote to Fleming from her room at the Hyde Park Hotel in Knightsbridge, London, about her enjoyment of his introduction to the reprint of Hugh Edwards's book of nautical adventure, "All Night at Mr. Stanyhurst's." Fleming writes her that the tale always brings him to tears and, in closing, that he "must return to writing about James Bond. He is now Bondo-san and is having high-jinks in Japan!"
---
Lot 105 - Estimate $250-350
Typed Note Signed as Foreign Manager of Kemsley Newspapers, to Mr. J. Ashwin, congratulating him on a successful year. 120x102 mm, stapled to a larger sheet on which Fleming later typed a comment. 22 December 1954
After the war, Fleming was a foreign manager of Kemsley Newspapers. He held this post until the newspaper group became Thomson Newspapers in 1959. The note is signed "Ian Fleming" in ink but he included the typed salutations of his assistants, Mrs Trueblood and Miss Hulbert. The comment on the attached sheet states: "you see, . . . once upon a time we had TWO secretaries !!!!!!."
Related Articles
Ian Fleming Biography
Richard Chopping Obiturary