| | |
| --- | --- |
| | MI6 reports from the 2008 UK Toy Fair and unveils exclusive details on new James Bond action figures to be released by Corgi, including "Quantum of Solace"... |
New Corgi Action Figures
1st February 2008
MI6 attended the 2008 UK Toy Fair earlier this week to witness the unveiling of a new line of James Bond products by long-time licensee Corgi. The company, which has traditionally produced highly collectible scale model die-cast vehicles, has expanded its line of 007 items this year.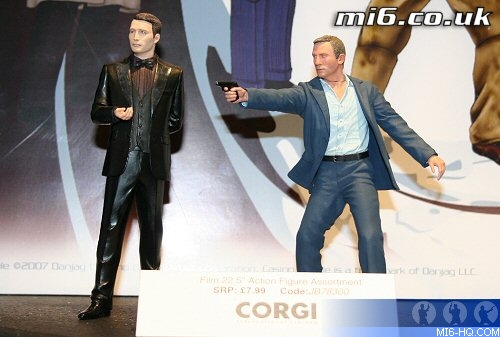 Above: 5" figures of Le Chiffre (Mads Mikkelsen) and James Bond (Daniel Craig)
from the 2006 film "Casino Royale"
Corgi will release a collection of 5" figures for the new film "Quantum of Solace" in September 2008 - two months before the film opens in theatres around the world. The series will also include characters from "Casino Royale" and the previous twenty films in the series. A precise line-up of additional figures is to be confirmed.
The 5" figures will retail for £7.99 each and will feature 'multiple points of articulation and accessories'. The first wave of release will include "Quantum of Solace" characters: two different figures for James Bond, and one each for Camille, Mr White, M, Dominic Greene, General Medrano and Elvis - a character which has yet to be announced by the film production.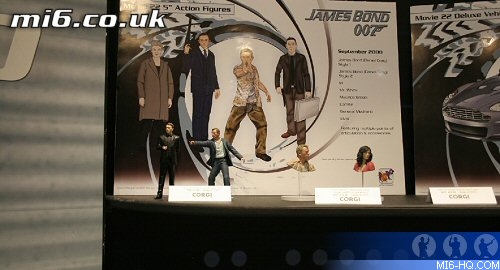 Above: The Corgi stand unveiling the new line of action figures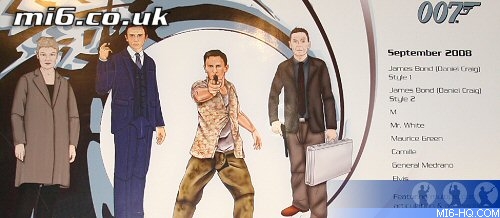 Above: Stand graphics announcing the new series of 5" figures
Another exciting line - yet to be uinveiled - will be a 7" scale 'Meticulate' collection of action figures. They will feature 'dynamic poses' and 'themed display stands' and will retail for £14.99. Figures from previous movies will be released in two waves:
Wave 1 (July 2008)

James Bond (Casino Royale)
James Bond (Live And Let Die)
Oddjob (Goldfinger)
Scaramanga (The Man With The Golden Gun)
Honey Rider (Dr No)
Vesper Lynd (Casino Royale)

Wave 2 (January 2009)

James Bond (Tomorrow Never Dies)
James Bond (Diamonds Are Forever)
Jaws (Moonraker)
Baron Samedi (Live And Let Die)
Solitaire (Live And Let Die)
Pussy Galore (Goldfinger)
Corgi will also be releasing 'headshots' of key characters. These busts will retail for £14.99 each. The prototypes on display included James Bond (Daniel Craig) and Vesper Lynd (Eva Green) from "Casino Royale".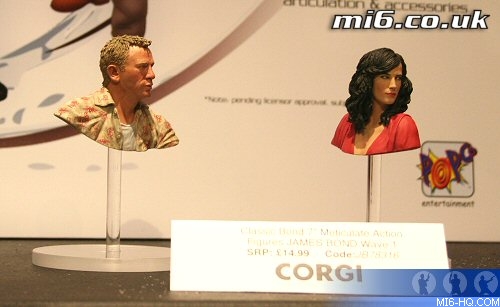 Above: 'Headshot' models of James Bond (Daniel Craig) and Vesper Lynd (Eva Green)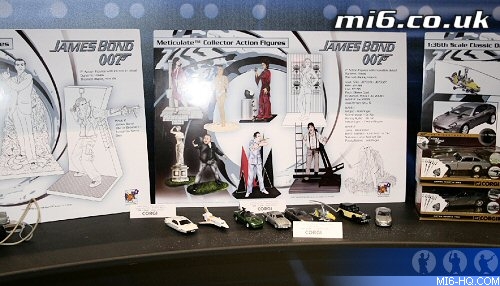 Above: The line-up of 7" figures for 2008 and 2009 was unveiled to Toy Fair attendees
Back in August 2007, Corgi International Limited announced that it entered into a Master Toy & Collectible Replica agreement with EON Productions. The agreement for the James Bond classic movie archive runs through 2010 and includes the forthcoming 22nd James Bond movie due for release in 2008 and subsequent movies released during the course of the term. This worldwide agreement will allow Corgi International to release both mass market product ranges as well as core collectibles on innovative product lines that include, Action Figures, Vehicles, Electronic Roleplay, Die Cast, High Specification Remote Control released under the Popco brand and High end Replicas released under the world renowned Master Replicas branding, amongst other items in varying scales and formats.
Corgi International CEO Michael Cookson commented, "Corgi has had a long association with the James Bond license, and as a licensee for over 40 years on Die Cast, we truly believe that we have reached an agreement where we can use our expertise in both the mass and collectibles markets to release products to a fan base that is both core and aspirational, something that most people believe James Bond to be. Our product range will commence before the movie release in 2008 with classic movie product and replicas and continue with some strong and innovative mass market lines, and we are proud to continue our association with such a franchise."
Keith Snelgrove, SVP Global Business Strategy for EON Productions, also commented "We pride ourselves in the long-standing business relationships we have with many of our James Bond franchise partners. Corgi has been with us since the beginning, and we are excited to see the new range of both toys and prop replicas that Corgi International will bring to market in conjunction with our next film and beyond."
Related Articles

Corgi Signs 007 Until 2010

Corgi 2007 Collectors Sets

Corgi Celebrates 007 Million Record