Blackstone Audio will publish CD, audio cassette and MP3 versions of Fleming's 1953 novel, which is also the basis of the forthcoming "Casino Royale" movie which is released in November this year.
These are the first complete versions of "Casino Royale" released in the USA. Previous versions had been released abridged by Blackstone Audio back in 2003. All of the 2006 versions will be identical and read by Robert Whitfield. The release is scheduled for July 15th.
CD Edition - Pre-Order (Amazon USA)

MP3 CD Edition - Pre-Order (Amazon USA)

Audio Cassette Edition - Pre-Order (Amazon USA)
Robert Whitfield has narrated abridged versions of all Ian Fleming's novels, "Colonel Sun" by Kingsley Amis, four of Raymond Benson's continuation novels ("High Time To Kill", "Never Dream of Dying", "The Man With The Red Tattoo" and "Die Another Day") as well as "Ian Fleming, The Man Behind Bond" by Andrew Lycet for Blackstone Audio
Extract
Bond was not amused. "What the hell do they want to send me a woman for?" he said bitterly. "Do they think this is a bloody picnic?"
Mathis interrupted. "Calm yourself, my dear James. She is as serious as you could wish and as cold as an icicle. She speaks French like a native and knows her job backwards. Her cover's perfect and I have arranged for her to team up with you quite smoothly. What is more natural than that you should pick up a pretty girl here? As a Jamaican millionaire," he coughed respectfully, "what with your hot blood and all, you would look naked without one."
Bond grunted dubiously.
"Any other surprises?" he asked suspiciously.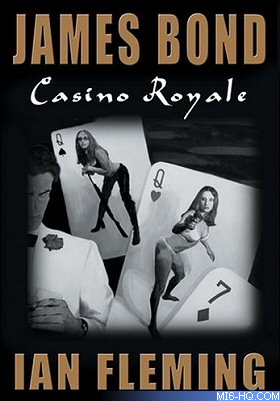 Above: Cover art for the 2006 unabridged audio book version of "Casino Royale"
"Britisher Robert Whitfield takes a suitably urbane approach, sounding as if he is attired in white tails and sipping a very dry martini between takes."