| | |
| --- | --- |
| | 'Skyfall' director Sam Mendes spoke to MI6 Confidential about how he has both respected and evolved the James Bond formula... |
Crafting A Classic Bond
9th November 2012
The cast and crew of "Skyfall" have been open about wanting to create a classic Bond film for 007's 50th anniversary, and if the UK press reviews are any indication, they have certainly succeeded. Nevertheless, with a fantastic history of 22 adventures, this was a high bar for "American Beauty" director Sam Mendes to set himself, and a lot to promise fans and journalists so early on in the production process. With filming wrapped, and the reviews flowing, Mendes was at ease to explain to MI6 Confidential, some of his thoughts on the classic elements of Bond, and how he brought fresh eyes, in the form of Roger Deakins and Thomas Newman to the 007 family.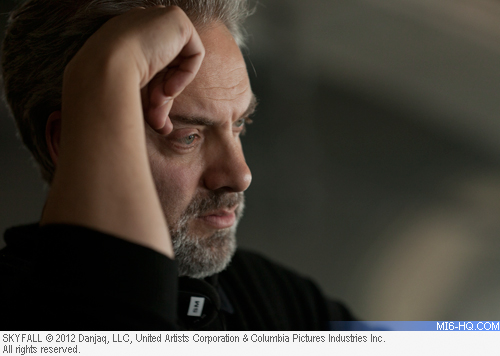 Deakins and Mendes were in sync with respect to the kind of adventure they knew they had on their hands. Mendes, whilst he clearly respects the kind of stead-cam action that has come in vogue, knows that it neither cries "Bond", nor is it Deakins' style. "We worked in detail through every section, trying to give each section a distinctive look," the director says of his collaboration with Deakins. "I was very, very clear from the beginning that this was not to be a Bond movie where we just threw seven cameras up and shot on long lenses and did a sort of pseudo-Bourne movie."
For Thomas Newman, who is a friend and constant collaborator of Mendes', the instructions were to make the "Skyfall" soundtrack brassy and bold. "I had to work hard to persuade Barbara and Michael because, you know, [Newman had] never done a movie like this and it's a particular musical world. I needed him to know that I wanted to work on a bigger scale than before, more muscular sounds, and he needed - and didn't really need to be told - to weave in the Bond theme, as it's a given."
Daniel Craig worked tirelessly with Mendes in the pre-production process to help create a Bond film he was proud to headline, and one of his key requests was to inject some of the dry humour for which 007 adventures have become known. "We worked very hard on it. Daniel was like, 'Please, get some laughs in it! Make me not so serious.' I said, 'That's fine, but don't expect gags,' because it has to come out of situation."

Yet, Mendes admits that "there are a couple of things that I just couldn't resist [in the Q sequence]," a scene strongly reminiscent of Bond's interplay with the late Desmond Llewelyn.

"I was astonished when I did read Fleming how much more extreme everything was - how much more sexist he was, how much more depressive he was, how much more violent." - Sam Mendes
You can read the complete interview with Sam Mendes, wherein he shares his thinking on even more classic 007 elements - from the gunbarrel to Fleming-inspired story-arcs - in MI6 Confidential Issue #18 - now shipping around the world.
To order online, visit www.mi6confidential.com