Official Blurb
The James Bond phenomenon is unique. Never before has a single brand crossed so many generations, defining the pace for big-budget film-making in the late twentieth century and beyond. For the first time, the people who created the Bond films - producers, directors, writers, designers - share their experiences and memories of what it has meant to collaborate on and produce the ultimate film legacy.
Drawing on the spectrum of all twenty-one Bond films, "The Art Of Bond" features a series of interviews with the people who have made cinematic history, including Michael G. Wilson, Barbara Broccoli, Ken Adam, John Barry and Martin Campbell. Reflecting on the Bond genre's wider impact, and how it has influenced their own ground-breaking work, are other film-makers including Steven Spielberg, Peter Jackson and Ridley Scott. Lavishly illustrated with an array of images from the exclusive Eon Archive including on-set photographs, concept artwork and exclusive images of Daniel Craig's debut in Casino Royale, this is a visually stunning tribute to the ground-breaking artistic, technical and creative talents of the Bond world.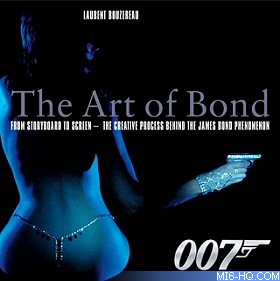 Above: Book jacket artwork.

Order Hardback (Amazon UK)

Order Hardback (Amazon USA)
Author Laurent Bouzereau spoke to MI6 about the book, Bond, and more. Click below to read the exclusive interviews:

Laurent Bouzereau Interview (1)

Laurent Bouzereau Interview (2)