| | |
| --- | --- |
| | MI6 talked to author Mark O'Connell about his James Bond memoir 'Catching Bullets'. Win copies in an exclusive competition... |
Catching Bullets Interview & Competition
22nd November 2012
How did the concept of 'Catching Bullets' come about and how long did the project take from conception to print?
I had toyed with writing a Bond book for about five or six years. I believed I could re-frame the films for fresh scrutiny, but didn't want to end up with another possibly-must-have coffee table tome treading the same paths countless writers have successfully (and sometimes not successfully) taken readers down before. And then there's that writers cliché 'write what you know' which, like most writers clichés, is annoyingly correct. So what I knew was my experience growing up as a Bond fan. A major part of which was my grandfather Jimmy's long working and personal relationship with the Broccoli family and Eon Productions. That ran together with my own fan boy foibles of home-made posters, VHS tapes, John Barry soundtracks and being at TV schedulers' mercy when it came to catching unseen 007 films in a pre-DVD age.
From conception to print was a period of 18 months. But I have been so lucky. Many a writer – Bond or otherwise – often has to surrender their title, chapter headings or jacket design ideas along the way. Elements evolve and change. That is part of any creative process – be it TV, film, music or literature. But I never once had to defend or lose "Catching Bullets" as a title and concept. The idea of 007 movies firing at all of us like bespoke bullets made a very immediate sense. And maybe because I shrewdly, and not accidentally, ensured the chapter headings were all bullet-related (The Speeding Bullets, The Rogue Bullet, The Stray Bullet and so forth) no publisher could force something horrific on me like "A James Bond Fan on the Edge of Dying For Another Film" sort of title on me. As it happened, Splendid Books respected the book's concept from the very start and their design elves took my somewhat restrictive and dogmatic notes ("no guns, no tuxedos, no Astons or Martini glasses") and came up with something rather fantastic.

Would you consider yourself a fan of the literary 007 as well as his on-screen incarnations?
I'm certainly less aware of the forensic minutiae of Fleming's work as some so brilliantly are, though of course I have all the books (including a prized first edition I will grab instantly in the event of a house fire, well, second after my Roger Moore autograph and wall clock).



Datastream
Publisher: Splendid Books
Format: Paperback / e-book
Pages: 300
RRP: £7.99 / $110
Order Amazon UK
"Catching Bullets" relates initial encounters with Fleming's work when I was too young to fully fathom their rather adult twists and turns, but I don't see how any Bond fan could totally bypass Fleming. The films are married to the novels. Even "Skyfall" will no doubt tip a trilby to Fleming. The films and novels share a sexuality, sadism, sense of luxury and that 'death for breakfast' timbre. And like all marriages, the films may stray from a fidelity with the novels but, even now, always return 'home'.
You mention in the book a few years ago you became a member of a James Bond Internet forum - do you think you'd have ever written this literary account of being a Bond fan if you hadn't first experienced sharing your opinions about Bond with others on a forum? Was writing down and sharing your thoughts and feelings on 007 with other fans around the world in this way a stepping-stone to writing the book?
Interesting question. Throwing some early Bond thoughts out into cyberspace may certainly have sped up my urge to get all those observations and reflections down elsewhere. I certainly got great traffic when posting early reviews of "Casino Royale" and "Quantum of Solace" upon their release and that may have lit a few creative light bulbs in my head regarding possibly readership of a book. I had actually toyed with writing a sitcom about two film fans who were Bond nuts, but then "The Big Bang Theory" came along and stole (quite brilliantly) that particular thunder. But the film fan online forum world is very different from the real one – and something I have learnt from writing the book that there is a rich and vast SPECTRE spectrum of Bond fans (from the casual viewer who knows that film is "the one with the car" to the most fervent knowledge peddlers who know exactly what Lois Maxwell's shoe size was in 1977). "Catching Bullets" had to appeal to both camps, yet without selling either short. Bond fans know when they are being sold short and casual fans know when they are being left out.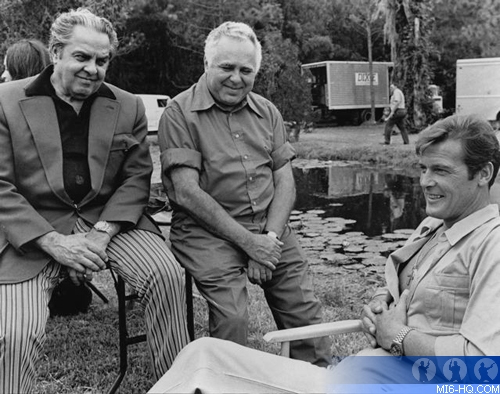 Above: Cubby Broccoli, Harry Saltzman and Roger Moore.
Catching Bullets is quite a personally revealing account about the life of being a Bond fan. Did you feel any trepidation opening up to the world at large in such a way about something that had been so personally dear to you for so long? And, given being a Bond fan (as you point out) hasn't over the years always been the trendiest of lifestyle choices, did you find it a cathartic experience writing the book?
Obviously one ponders and questions how 'personal' you go, but as the context was always "Memoirs of a Bond Fan" that had to be my focus throughout. Not everything is in there (my parents and agent will be reading this, remember!) but everything that was crucial to my self-effacing journey as a 007 fan is there in all its eccentric and hopefully recognisable glory. Having to hold our hands up to embarrassing behaviour in our youth and formative years is universal to everyone. Well, I hope it is! To meit was sometimes more important to get the details of my grandfather Jimmy's time with the Broccoli's and Bond right. I was certainly aware of detailing a working life with a creative family who are famously very private, and rightly so. Again, it's about balance. I have no qualms about detailing my embarrassing Roger Moore-obsessed behaviour during a Scout camp or outlining my obsession with Maud Adams - who quite beautifully gets the last word at the close of "Catching Bullets". I'm a comedy writer by trade. If something is funny, it stays in.
It was cathartic in as much as it was liberating to not only get my thoughts and musings on Bond down on paper, but to finally complete a look at a film fan's life that is taking in 22 (and counting) films, each with their own identity, agendas, contexts and successes. That was quite a big challenge. There was a scary point halfway through where the vast project of writing about 22 films suddenly hit me and I could only see the tunnel at the end of the light. But because it was a personal story as much as a filmic one, I had to see it to the end. And remember my subject matter was the James Bond films. It was never a chore to return to these pictures.
Obviously this autumn marks the golden anniversary of the cinematic Bond and the publication of the book at this time is surely no coincidence - was writing a book on your experiences as a Bond film fan a way for you to mark the anniversary personally? Will you be marking the actual day (October 5th) at all and what are you plans for seeing Skyfall at the cinema?
Well watching all the films again became a great festival of '007-ness' so that has been an apt way to honour the fifty year mark. The book's Autumn 2012 release was of course no coincidence, nor though was it a make or break opportunity. With a defined window of eighteen months from starting the book to an imagined publication date, the Golden Anniversary was actually a golden egg for me. It meant I had a deadline to work towards – which is a great spur. And after all, the Bond films are the gift that keeps on giving. I was taking to a member of the team at Eon Productions just the other day and she reminded me that October 5th 2012 may mark the UK and US fiftieth anniversary, but in some global territories "Dr. No" and "From Russia with Love" did not emerge until 1963 and beyond. The fiftieth anniversary could technically be marked for months if not years! For me personally, writing the book was of greater importance than when it might be released. Though it's not a bad way of marking half a century of Bond. I hope to be marking James Bond Day. I have some plans and notions. A "Catching Bullets" cake sale has crossed my mind. Or maybe I will finally be able to take Maud Adams out for that Thai meal I have been mentally promising her for thirty years. I think it would just be apt to spend the day in the company of my partner, mates, other fans, a few Vodka Martinis and we can throw all our bullet catching memories into the mix. I will certainly be raising a glass or three to my grandfather and the Bond alumni no longer with us, as well, of course, to the fortunes of 007's future.
As for Skyfall… I initially had the perverse notion of keeping my Bond 23 virginity intact for a while and catch Skyfall when it is shown on television. Weird, yes? I thought there would be no better way to honour how I first fell in love with these Bond bullets than watching them live on TV. But maybe that idea was the result of necking some out of date Bollinger. And I am still a Bond fan. We are not known for our patience. Nor our fondness for commercial breaks. So I am sure I will see it at the earliest opportunity. I have to! Besides, with director Sam Mendes, cinematographer Roger Deakins, tunesmith Thomas Newman, that interstellar cast and of course Eon at the helm, I have confidence Skyfall will be a truly cinematic Bond, possibly a new classic and certainly very special.
You're now a TV comedy writer. Do you think your love of Bond played a role in you becoming a writer for the screen? And, aside from Catching Bullets, has it informed anything else you've written at all?
It absolutely played a role. Bond got me fascinated with the workings of TV and film. Through Bond I soon appreciated that a film does not just exist in a cinema screen bubble. A group of people have to make it. That process became as fascinating to me as the end product, and from an early age I wanted to be a part of that. Elements of Bond have crept into other projects of mine, yes. Aside from the Bond fan sitcom, I once wrote something about a Glaswegian drag queen with a penchant for belting out Shirley Bassey 007 anthems at inopportune times. Does that count?
Your grandfather Jimmy was Cubby Broccoli's chauffeur for many years - and his presence is certainly felt throughout Catching Bullets. Were he still alive, what do you think and hope he'd make of the book?
I think he would be mortified! In fact, I know he would. But that was because he was a very private man. And his years with the Broccoli family were part of that privacy. And possibly theirs too. But I hope he would have been quietly proud of the legacy his time with Eon and Bond had on me and the subsequent writing of this book. Through my research I discovered Jimmy had a great sense of humour that had maybe diminished as age took hold. It is certainly one I have apparently inherited from both my grandfathers, so I hope Jimmy would chime with the book's self-effacing humour.
Barbara Broccoli has contributed a Prelude to your book - could you describe how that came about?
For obvious reasons the reaction of Eon and the Broccoli family was important to me and Catching Bullets. Barbara Broccoli had spent a lot of time in the company of my grandfather. She and Michael G Wilson are also responsible – along with her father and others – for the very films that 'co-star' alongside this fan in "Catching Bullets". So there was always a responsibility to get the book right. Barbara was naturally curious about the book, and as we had met a couple of times over the years,it went from there. Her kind words meant a great deal. Even more so when she said we can use them in the book. Michael and Barbara have long pondered the enduring legacy, dedication and fascination fans have with the Bond movies. Remember they too are Bond fans."Catching Bullets" is able to answer some of those questions.
What would be your top piece of advice you can you offer to young and aspiring writers and Bond aficionados?
Write, rewrite and do both again. Then re-write some more. Find examples of produced screenplays, look at the craft of scripts and shows you like, don't be afraid to cut and lose stuff you've written that is great (but can often be tripping up a scene or chapter) and less is always Moore. Then re-write again. If you have an angle and a Bond passion and want to write it down, then write it down. And good luck!
Catching Bullets Books Must Be Won!
To be in with a chance of winning, simply answer the question below along with your name, city, and country in an email to [email protected]
Which UK television channel was famosu for broadcasting Bond movies on Bank Holidays?
Terms & Conditions
The competition closes at midnight GMT on 22nd December 2012. MI6 will choose the winners at random from the correct answers received. The winners will be contacted via the email address supplied and their postal address will be requested. If a winner fails to respond within 7 days of prize notification, another winner will be chosen until all prizes are allotted. Competition is open to MI6 readers worldwide. Entrants must be at least 13 years of age.