Mission
James Bond is back to settle the score in the Quantum of Solace™ game. Introducing a more lethal and cunningly efficient Bond, the game blends intense action with a unique combat system for the Nintendo DS™ that allows players to use their stealth and lethal combat skills to progress through missions.
Seamlessly blending the heart-pounding action and excitement of the upcoming "Quantum of Solace" feature film with the "Casino Royale" movie, the title propels players into the cinematic experience of international espionage.
The Quantum of Solace game for the Nintendo DS gives players a unique experience in the palm of their hands, as they use an innovative touch screen control scheme that gives players the feeling of being James Bond.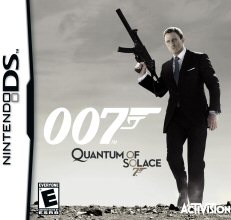 Above: Nintendo DS artwork


Order Online (All Platforms)

Game Review