Christie's Goldfinger Auction
8th September 2014
EON Productions and Christie's have partnered to sell rare and collectable memorabilia to celebrate Goldfinger's 50th anniversary
By MI6 Staff
---
EON Productions have partnered with Christie's Auction Houses to stage an online auction for rare and collectable Bond memorabilia. Celebrating the golden anniversary of the release of 1964's "Goldfinger", the auction opens online today and bidding will remain open until September 17th, the anniversary of the release. Christie's will offer in a special online auction to benefit the NSPCC, working to stop child abuse in the UK.
Amongst the items commissioned by EON for sale is a 18k golden Omega Seamaster wristwatch and a third scale golden replica of James Bond's Aston Martin DB5, first seen on screen in the film and now iconic of the 007 franchise.
LOT 1: A First Edition Book 'Goldfinger' By Ian Fleming. London: Jonathan Cape, 1959. 8° (190 x 126mm.) One-full page illustration. Original black cloth, skull stamped in blind on front cover with eyes stamped in gilt, original pictorial dust-jacket designed by Richard Chopping, first edition. Slight discolouration to the back cover and very slight wear to external edges consistent with age. Internal pages and image on front cover excellent. The condition of lots sold can vary widely due to factors such as age, previous damage, restoration, repair and wear and tear. The nature of the lots sold means that they will rarely be in perfect condition. Lots are sold in the condition they are in at the time of the sale. Starting Price: £1,000.
LOT 2: A British Quad Cinema Poster With A 'Goldfinger' LP Signed By Dame Shirley Bassey. Having composed the soundtracks for eleven James Bond films between 1963 and 1987, Goldfinger was the first Bond soundtrack that John Barry was given total creative control over. It was also one of the first Bond films to use a pop star to sing the theme song, with Dame Shirley Bassey going on to sing the theme songs for "Diamonds Are Forever" (1971) and "Moonraker" (1979). British quad, style A; backed on linen, with a certificate of authenticity from EON Productions; accompanied by an LP "Goldfinger (Original Motion Picture Soundtrack)", United Artists Records UAS 5117, 1964, stereo, US release, signed on the front cover in gold marker pen by Dame Shirley Bassey. Starting Price: £2,000.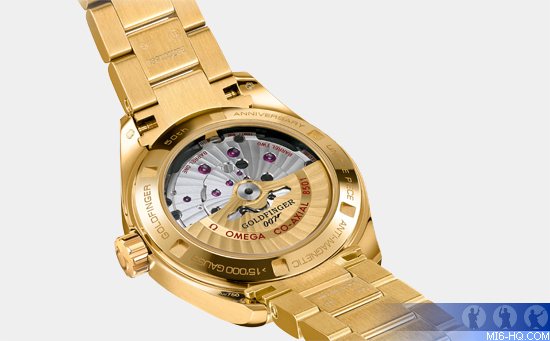 LOT 3: A Unique Yellow Gold Omega Seamaster 'Aqua Terra' Wristwatch. OMEGA has created this one-of-a-kind Seamaster "Aqua Terra" wristwatch especially for the 50th anniversary of Goldfinger. Since GoldenEye in 1995, the OMEGA Seamaster wristwatch has been the spy timepiece of choice, worn by James Bond in every 007 film. The design of the special presentation box was inspired by the U.S. Bullion Depository building at Fort Knox as featured in Goldfinger. The 18k yellow gold case with circular 18k yellow gold dial and 18k yellow gold hands coated with SuperLumiNova to provide visibility in all lighting conditions, an 18k yellow gold counterweight on the central seconds hand crafted in the form of the iconic 007 logo, the Omega Master Co-Axial calibre 8501 with distinguishing 18k yellow gold rotor and bridge movement revealed through a transparent crystal case back, 18k yellow gold oscillating weight, the mechanical movement resistant to magnetic fields greater than 15,000 gauss, the words Goldfinger, 50th Anniversary, Unique Piece, Anti-Magnetic, >15,000 Gauss engraved on the 18k yellow gold case ring, with 18k yellow gold bracelet, the case 38.5mm. wide, with special presentation box. Starting Price: £8,000.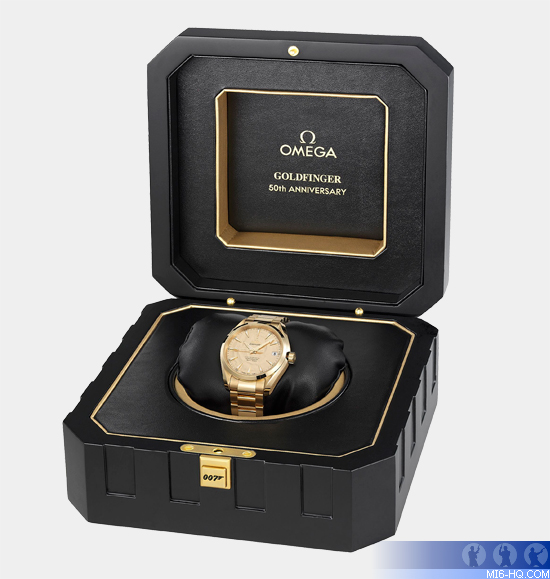 LOT 4: 'The James Bond Archives' By Paul Duncan - Taschen Golden Edition Signed By Daniel Craig. In celebration of 50 years of this innovative franchise, TASCHEN presents the most complete account of the making of the series, covering every Bond film ever made. The stunning imagery is accompanied by an oral history recounted by over 150 cast and crew members, relating the true inside story of how the Bond films were made. The result of two years of research by editor Paul Duncan in EON Productions' archives, this comprehensive tribute to the legend of James Bond contains a wealth of previously unpublished photography and artwork, as well as production memos from filming and much, much more - a treasure trove for casual Bond fans and aficionados alike. This special golden edition A was produced in a limited edition of 250, with 20 artist's proofs printed for TASCHEN, EON Productions and Daniel Craig. This is one of the artist's proofs printed for EON Productions. Starting Price: £2,000.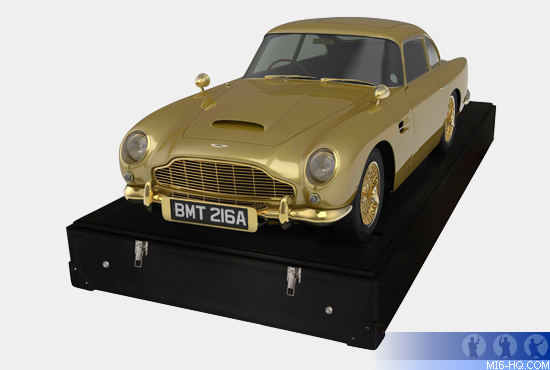 LOT 5: A Unique One-Third Scale Models With Gold-Plated Detail Of James Bond's Customised Aston Martin DB5. This highly collectible one-third scale model is unique as the only gold model in existence, created to celebrate the 50th anniversary of Goldfinger. The third film in the James Bond series, "Goldfinger" (1964) saw the introduction of a new car for Sean Connery's Bond - the Aston Martin DB5, signaling the start of a relationship which spans eleven Bond films and nearly 50 years of cinema history. Although Ian Fleming had placed Bond in a DB Mark III in the novel, the DB5 had just been introduced by Aston Martin in 1963 and the decision was made to use the company's latest car. The car used in the film was the original DB5 prototype, with another standard car used for stunts. Production designer Ken Adam and engineer John Stears specially adapted the prototype Aston Martin DB5 coupe to reflect MI5's Q branch customisations, installing a myriad of 007 gadgets including a bulletproof screen, revolving number plates and Browning twin machine guns hidden behind the sidelights.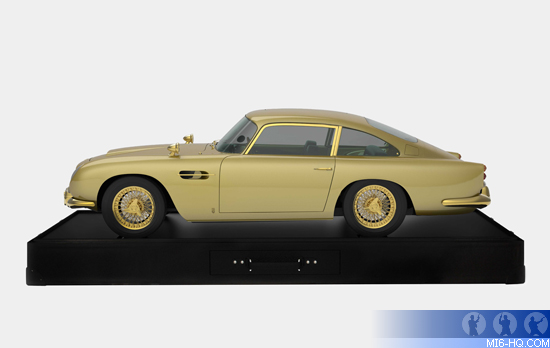 The model based on the one-third scale model created for special effects scenes in "Skyfall" (2012), designed using 3D scanned parts from the original full-size DB5 used in "Skyfall", with functioning gadgets as seen in James Bond's first DB5 featured in "Goldfinger" (1964) including: radio controlled Browning machine guns, operational bullet proof shield, revolving number plates, gear stick with ejector seat button detail and removable ejector seat roof panel; with unique 24k gold-plated styling to radiator grill, wire wheel, front and rear bumpers, rear cluster base plate, boot lid trim, number plate surround, front wing vents, wiper base unit, wiper arm assembly, door frame upper trim, ariel, headlamp external bezel, headlamp lens bezel, front indicator bezel, Aston Martin badge, door outer handle, boot lock, wing mirror, windscreen wash nozzle and quarter light catch, the removable roof panel signed by legendary James Bond Production Designer Ken Adam; displayed on a rolling road in a bespoke "Q case" designed by Globe-Trotter; the case also housing a remote control, a gold commemorative key and a functioning key with which to operate the model, a documentary showing how Propshop made the model, a limited edition Aston Martin One-Third Scale Model brochure, a "Goldfinger" DVD and a certificate of authenticity signed by Aston Martin, EON Productions and Propshop. Starting Price: £40,000.
The lots are on display at Aston Martin W-One, 113 Park Lane, London until close of business 9th September, then at Goodwood Revival, West Sussex 12-14 September. Then, for the last days of the auction, the lots will appear at Christie's, King Street, SW1.
All of the lots can be viewed online and bids can be placed at Christies.com.
Share The Story