An Audience With John Glen
22nd November 2015
The five-time Bond director held court in an interview and Q&A on his career at London's The Cinema Museum - Adam Bollard reports
---
One man may not have been behind all the despicable, villainous schemes in "For Your Eyes Only" (1981), "Octopussy" (1983), "A View to a Kill" (1985), "The Living Daylights" (1987) and "Licence to Kill" (1989), but one man was behind the Bond movies in which they featured. For the entire decade that was the 1980s, one man alone was at the helm of the whole big-screen Bond bandwagon: John Glen.
And last Friday night, the most prolific director in the 53-year history of the 007 film series appeared before an audience of fans at The Cinema Museum in South London to discuss his Bond career, in promotion of this year's reprinting of his autobiography For My Eyes Only: Directing the James Bond Films, copies of which he autographed at the end of the evening.
Interviewed by popular culture author Marcus Hearn, Glen shared several stories, interspersed with showings of choice moments from all of the Eon films on which he worked - which, in addition to the movies he directed, included 1969's "On Her Majesty's Secret Service", 1977's "The Spy Who Loved Me" and 1979's "Moonraker" (on all of which he served as Second Unit Director and so was responsible for many of their spectacular action set-pieces).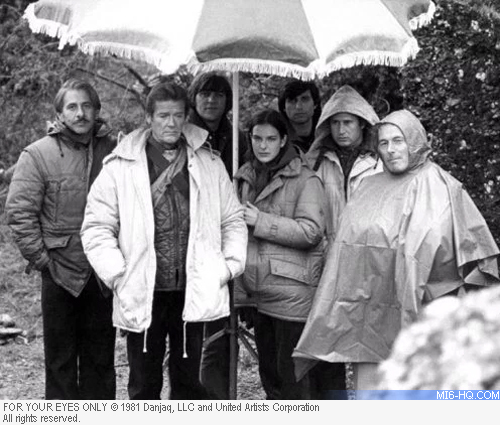 Warm, convivial and very conversational despite his advancing years (he turned 83 in May), Glen explained how his time in Bondage began (he was asked to efficiently oversee the toboggan chase in "OHMSS" by its director and his former collaborator Peter Hunt, owing to an escalating budget) and how he came to direct his first Bond film "For Your Eyes Only" (legendary Bond producer 'Cubby' Broccoli casually dropped the offer into conversation following an unusual one-on-one lunch).
And, maybe most interesting of all, he shared what he thought about "Never Say Never Again", 1983's rival 007 movie to his own, "Octopussy" - unsurprisingly, it wasn't much. But he also told how, fascinatingly, rushes from the former movie were at one point sent by mistake to his team at Pinewood Studios; they sent them on, honourably not watching them and even paying for the transport. Even though, before that, his own car had been broken into and his passport stolen the morning he was supposed to fly out to India to shoot "Octopussy" - an act of attempted, desperate Bond baddie-like sabotage, for which he suspected those behind "Never Say Never Again" had been guilty.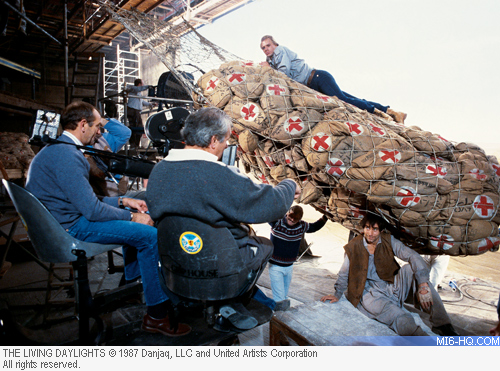 A Q&A session followed the interview and film clips, during which Glen clarified that of the quintet of Bond pictures he directed, he's proudest of the harder edged, Timothy Dalton-starring "The Living Daylights" and "Licence to Kill", while his personal favourite (for the blend of all the Bondian elements it contains) is "Octopussy".
Additionally, he admitted that - unusually for a film director - he's always enjoyed filming animals (which may explain why, for Bond fans, his own movies have always been notable for their non-human cameos) and revealed how much he relished working with Bond stalwarts on his films, especially Roger Moore (whom he always found entertaining company), Desmond Llewellyn (a loveable professional) and Cubby himself (a father-figure for the series who drove it for so long).
And then, with Shirley Bassey's theme from "Goldfinger" (1964) filling their ears courtesy of the venue's speakers, attendees went away - with copies of his book under their arms - concluding for that for the very identifiable 1980s era of Bond, John Glen was very much the man with the Midas touch.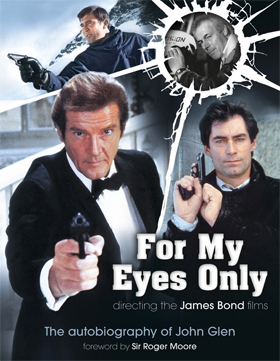 DATASTREAM:
Release Date: 3rd November 2015
Publisher: Signum
Format: Hardback
Pages: 272
Price: £19.98 (UK), $26 (USA)
Dimensions: 19.8 x 2.4 x 25.1 cm
ISBN-13: 978-0957648180
Get Bond in Your Inbox
Sign up for occasional email updates from MI6. Get notified of breaking Bond news, and digests of recently releases features:
Share The Story