Moonraker 35th Anniversary Report
15th October 2014
Moonraker returned to the big screen in London on October 5th, Adam Bollard reports on the screening and the Q&A with former crewmembers that followed
---
Thirty-five years ago James Bond went further than he'd ever been before - or indeed has since - when he was launched into the stratosphere in a space shuttle and fought a megalomaniac to prevent the destruction of the entire human race. The movie was, of course, "Moonraker" - the Bond film that for many really did go too far, but proved so popular at the box-office that no 007 effort out-grossed it for the next 16 years.
And this month, in order to mark its anniversary, the unique "Moonraker" was gloriously back where it belongs - on the big screen at a special die-hard fan-friendly showing at the Genesis Cinema in East London. An exclusive and fascinating Q&A with EON Productions alumni William P Cartlidge (associate producer), Paul Weston (stuntman) and John Richardson (special effects supervisor), followed the screening. All of the guests worked on "Moonraker" and several other Bond films.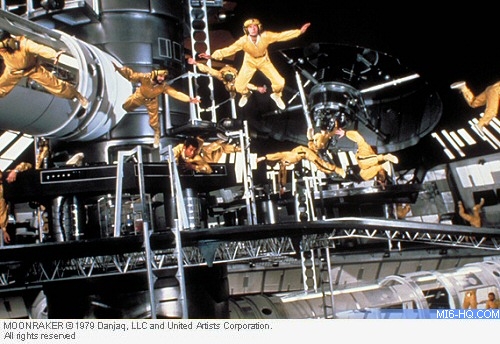 Showing in a digital print, "Moonraker" looked better than ever on the cinema screen, the perfect showcase for its outstandingly realised space effects, luscious cinematography and, yes, bawdy quips and dubious double entendres. Arguably the highlight, though, was the interview with the three special guests after the end credits rolled. And several interesting tidbits emerged as the trio thought back to the time they spent working on the film.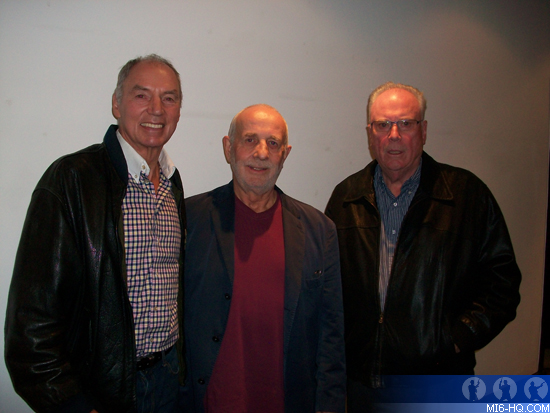 Bill Cartlidge admitted that, in his opinion, the use of Paris-based studios for much of the interior sets (owing to the production needing to move away from Pinewood Studios and out of the UK due to tax reasons) may have saved the Bond films from basically becoming a US film series shot in Hollywood, as financial backer United Artists wished to switch filming to US studios immediately Pinewood was no longer an option.
Meanwhile, John Richardson told the tale of how he found himself suspended 30 feet below a helicopter attempting to shift a boat that had got stuck on rocks on the edge of Argentina's Iguaçu Falls (while attempting to film the Amazon-set sequence in which Jaws's boat tumbles over the waterfall in pursuit of Bond's speedboat), but had to be pulled up and away when he realised the cords connected to his harness were starting to break! And Paul Weston explained how, in doubling Jaws, he managed to create the moment - shot against green screen in a studio - of the henchman jumping the 12-foot gap between cable cars thanks to taking off on a trampoline, despite his makeshift tin-foil 'Jaws teeth' threatening to destroy the metal caps in his own teeth.
Eventually, however, like Hugo Drax's grand scheme, the event had to come to an end and, although not boarding space shuttles home, the guests and filmgoers filed out and into the London night, enlivened and delighted to have witnessed a Bond epic of old light up the silver screen.
You Might Also Like
Moonraker
MI6 delves in to the rich production history of Moonraker to uncover some of the lesser known facts and trivia
Events
Over a dozen special guests are confirmed for the Thunderball 40th Anniversary event in London this November
---
Get Bond in Your Inbox
Sign up for occasional email updates from MI6. Get notified of breaking Bond news, and digests of recently releases features:
Share The Story